Wizards of the Coast Magic: The Gathering | Ikoria Commander Deck - Otrimi, the Ever-Playful
Product description
Ikoria: Lair of Behemoths Commander Deck - Otrimi, the Ever-Playful
Ages: 13+
From WOTC's Ikoria Commander preview, 4/3/2020:
In a set full of wild mechanics, mutate is really like nothing you've played before—and this Commander deck is truly something fresh and new. With several mutate cards—including several new ones targeted specifically at Commander play—it lets Otrimi really do its thing: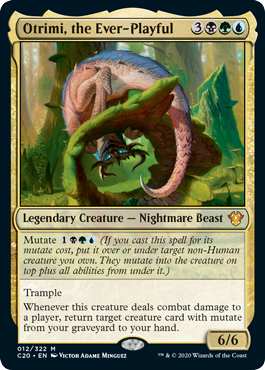 It's really neat to be able to use this product as a way to provide some really new and wild commanders to build around. Once again, though, if mutate doesn't fascinate you, the other legendary options will tickle your fancy. One of them is a Nightmare Hydra that, well, you'll just have to see later.
Ages 13+