Dina L. Sauser - 20 / Nov / 2020
Comics Comics Comics! | Comic Book Shopping for your fan!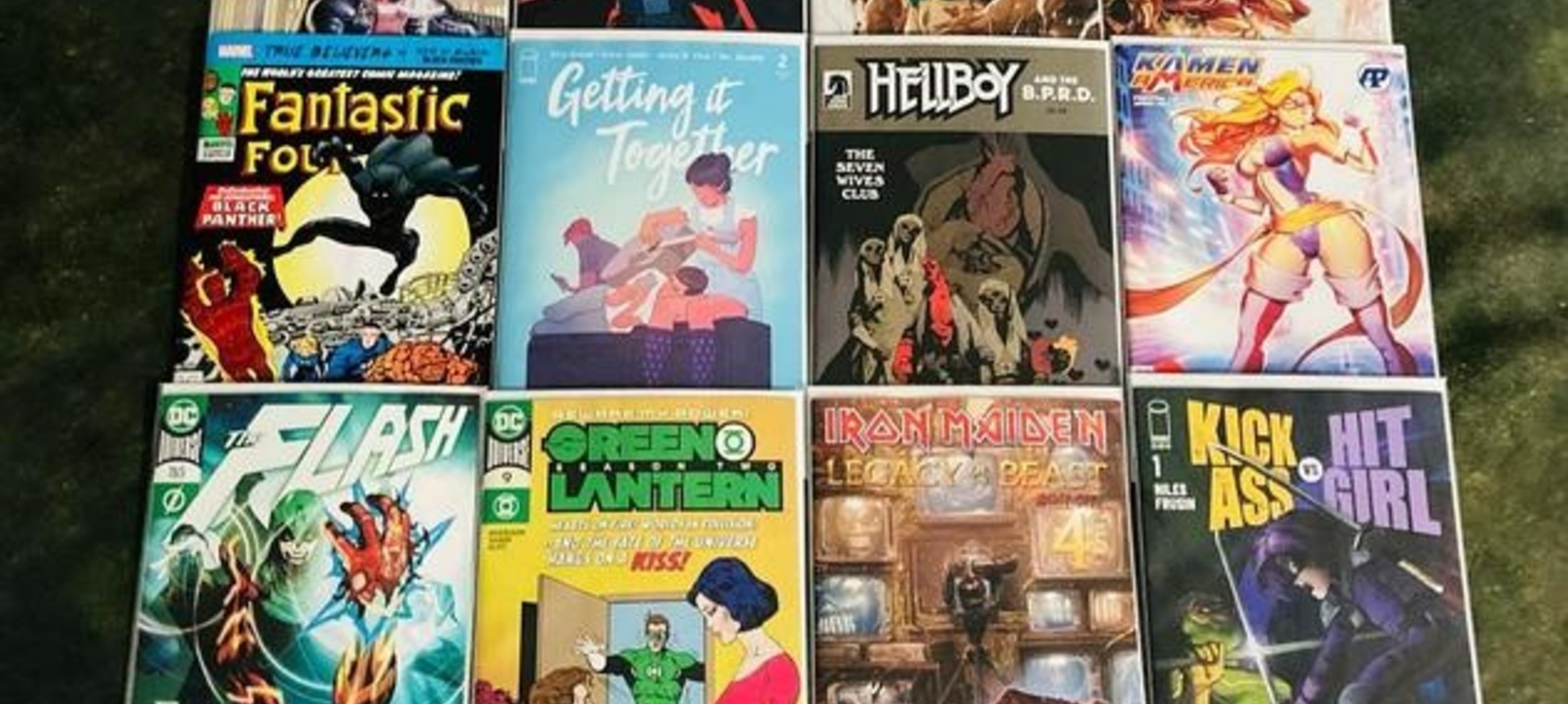 Shopping Tips: Buying for your comic book fan
Holiday Shopping is here! It's time to NOT stress over what to get your friends, family members, and loved ones. We all want to see the joy when we surprise someone with that perfect gift!  For comic book fans, no need to fret, here are some ideas and thoughts when you find yourself in the comic store thinking "Ooof!  What in the world do I get?"   First, a few questions to ponder: Do they consistently read and/or do they own lots of comics?
Below are a few basic DO's and DON'Ts when trying to find that perfect comic book.  Well, mostly DO'S!
DON'T buy them the latest issue of a comic series because it is just that, a series, which of course means it's not a stand-alone story.  Each one usually evolves from another issue and knowing the backstory or recent happenings is of the utmost importance to the series as a whole.  Now, when it comes to youth titles, that may be a little different, most stories are graphic novels that can be read individually and do not rely on other issues to understand and complete the story.
DO: Focus on graphic novels and trade paperbacks. They are complete stories, so you can purchase them without having to worry about the next issue or missing an issue. It makes hunting for issues a non-issue and allows the recipient to have the whole story in hand and be able to read it in one sitting.
DO: Ask your family or friend their likes and preferences.  Try to get an idea of their favorite genre, titles, or characters to get an idea of what interests them. You can use this information as a frame of reference for when you shop for something more particular.
DO: Try to find a series where there is common ground for you and the recipient.  This is a great way to relate to that person and you might even find something new for yourself!  My daughter has been an avid Ghost Rider fan for a few years now, something I thought was a phase has turned into a great avenue for her to read and find interests.  So when I went to purchase a comic book series for her, I found Cosmic Ghost Rider, who piqued my interest too, and now we chat about it all!  We often watch movies and enjoy comparing them to the comic series, too.  
DO: Ask for help!  Staff and employees are very knowledgeable about comics and can help you decide what title/series/genre may work for you.  A good place to start is by telling the employee what type of stories your giftee likes, or what character is favored.  I absolutely love sharks, so of course, Gwenpool was for me because she has Jeff! Her pet Landshark.
DO: Think and go beyond comic books. With so many options like action figures, statues, manga, and pops, you are bound to find something your friend or loved one will love!  
Take the stress off yourself, holiday shopping should be fun….DON'T let it stress you out.
Visit our store: here
Our online store: here
Like us on FB: here
The Adventure Begins | 525 Woodland Square Blvd. #130, Conroe, TX 77384 | 936-273-3223