Login
Log in if you have an account
Dont have an account? Register
Grand Adventure 6.13.23
13 Jun 2023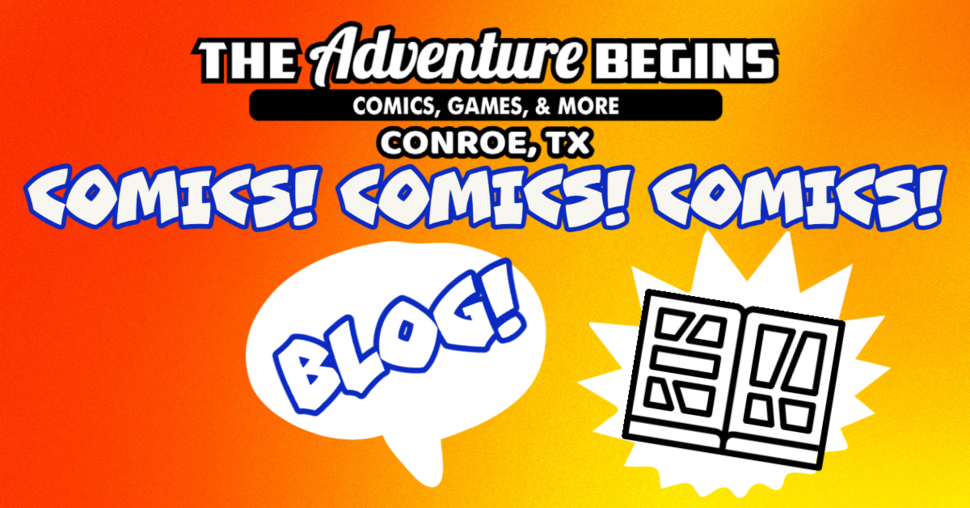 Welcome to the Grand Adventure Blog! I am your host, Samantha. This week we are going to explore some crazy comics, manga and more!! So be on the lookout for some new reading material!
COMIC LOTTERY!! 
We have only one comic coming to you this week for the lottery!! Chaz is back and so is our comic lottery!! Look at what's available today and get your choice in by 4:00 pm.
STEELWORKS #1 (OF 6) CVR E INC ARIEL COLON CARD STOCK VAR (1:25)
Comic Book Rec's!!
Comics this week are so amazing! I am so excited to share these with you!! Without further ado! 
The first comic this week is Omega Gang #1. Gab, Luna, Adham, and Ama are a group of friends who call themselves the "Omega Gang," as a way of expressing the hopelessness of their lives and their generation. It's the beginning of summer, and quite unexpectedly, they discover a set of mysterious eggs that shake them to their unusual Gen Z depression. This is a BIG DEAL! And they'll have to figure out what to do with them soon-but are they gonna be ready for what is about to emerge from those shells?
The second comic this week is Rouge & Gambit #4. WITH THEIR POWERS COMBINED…Rouge and Gambit are still dead in the water! And so are the powered humans who've mysteriously disappeared recently. Crusher Creel, Juggernaut, Vanisher, Lady Deathstrike…What are all these (sometime) villains doing in one place, and who is pulling the strings? The gloves come off, and series secrets are revealed as this house of cards comes crashing down! 
Our last comic this week Ghostlore #2. In the stunningly spectral sophomore issue from acclaimed horror purveyor Cullen Bun and superstar artist Leomacs, the tragedy and grief of the accident not only bring tension to Lucas and Harmony, but may affect the spirits they encounter-forever. How will they reconcile their differing approaches to the ghosts that cross their path, before it tears them apart?
MANGA CORNER!! 
Welcome to the manga corner where we talk about all things manga! This week we have only one mangas that will blow your mind! 
The manga this week is Scribbles Vol. 1. In this stunning volume, Kaoru Mori—author of award-winning series A Bride's Story and Emma—shares works from her personal collection of sketches and concept drawings. From familiar characters and settings to illustrations drawn from Mori's own interests, Scribbles is a fascinating glimpse behind the scenes and into the sketch books of one of Japan's most beloved creators.
KIDS CORNER FOR JUNE
This month we have an entire set of books for you!! They are READING LEVEL BOOKS!! Each book has its own grade and age appropriateness for the reading level. Developing strong reading skills is critically important to a child's future intellectual growth. Parents, teachers and schools look for every avenue possible to spark the love of reading in young people.  One proven method is to use a leveled reader program, which accounts for the different stages in a growing child's reading ability and comprehension. The Step-Into-Reading series by Random House Children's Books is a great program that supports this goal, organizing reading comprehension skills into 3 "steps."
These make excellent options for your own kid or all-ages section as well.  Many popular licensed characters, including superheroes, Disney and Nickelodeon characters, and more are featured in these readers, with the hope of grabbing the attention of an inquisitive kid.  There are also readers featuring original stories as well, covering subjects and themes that are generationally popular for decades.
Because of the sheer volume of reader options, I've put together a product list to help narrow the focus to those which may sell best in your own store.  The spreadsheet is organized by subject area, with the more comic store-adjacent titles on top.  Titles in green are a PRH bestseller over the last 90 days.  I've also included which "Step" belongs to each title, so you can mix or emphasize your desired age ranges as needed.
There is also a great title collection of Step Into Reading books on PRHComics.com, this is a great location to "cover skim" dozens of options very quickly.
Readers are affordably priced and are easy purchasing decisions for parents or gift-givers to make.  Every kid out there is just the right title away from becoming a lifelong voracious reader.
Finally, for those of you who are looking to add a new display to your children's area, RHCB offers an entire spinner devoted to their Step-Into-Reading series.  It ships free with a full fill of titles.  I've attached the sales PDF and feel free to contact me if you would like to learn more about placing an order or would like suggestions on recommended fill choices.
Did you know we also do COMIC GRADING?? Come and see us on the first Friday of the month with your favorite, or just a great comic you want to get graded. We have had some fantastic entries and even better grades. All comic book grading is done by CBCS and EGS. 
Chaz and Dina have partnered with Comic Books for Kids/ Comic Books for Troops (https://www.comicbooksforkids.org/) to donate comics to sick kids and our honorable troops. 
Be on the lookout for the next blog. Don't forget to come in if you have any questions about anything on the blog or if you just want to come by and say hello. Until next time!
Visit our store HERE!
Our online store HERE!
Like us on FB HERE!
Like The Adventure Stadium on FB HERE!
The Adventure Begins | 525 Woodland Square Blvd. #130, Conroe, TX 77384 | 936-273-3223