Login
Log in if you have an account
Dont have an account? Register
Grand Adventure Blog 5.30.23
30 May 2023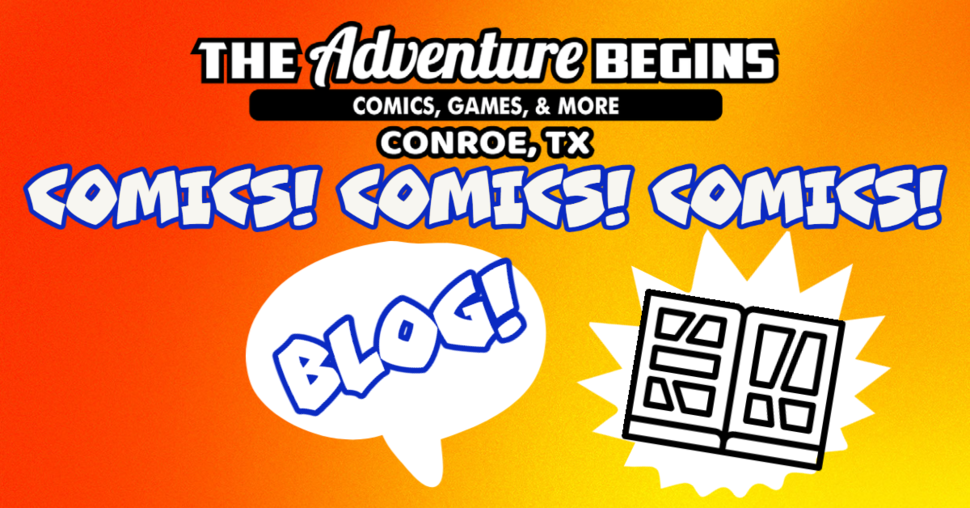 Welcome to the Grand Adventure Blog! I am your host, Samantha. This week we are going to explore some crazy comics, manga and more!! So be on the lookout for some new reading material! 
Fun fact of the day: Marvel published a Generic Comic Book, in order to trademark the names "Super-Hero" and "Super-Villain". (http://www.comicbooktidbits.com/Generic%20Site%20Enty.htm)
COMIC LOTTERY!! 
We don't have any comics coming to you this week for the lottery!! Chaz has been a busy boy with Comicpalooza and the upcoming Kimo Kawaii and we will be back to our regularly scheduled comic lottery soon, so please bee on the look out!! 
Comic Book Rec's!!
Comics this week are so amazing! I am so excited to share these with you!! Without further ado! 
The first comic this week is Power Girl Special #1. Power Girl take center stage! With new powers and a new mission, Power Girl faces a hallenge unlike any she's experienced before in this shocking one-shot rising from the events of Lazarus Planet and Action Comics! With Omen' guidance, Power Girl now strives to battle the demons- literal and figurative- lurking within the minds of some of the greatest superheroes in the DC Universe!Bit the nefarious Johnny Srro has been searching for a connection to Earth-0, and the superheroines' work may unwittingly give him the means to make their world his personal stage! Can Power Girl and her estranged Super-Family bring down the curtain on Sorrow's evil plans? ANd at what cost?
The backup story is an introductory tale. Fire and Ice respond to a natural disaster in Baltimore, debating whether to involve Ice's old fame Guy Gardner. When Guy causes some major drama at the scene, Superman gets involved to stop the fight. 
The second comic this week is The Rocketeer #1. It's a wall to wall adventure in a trip of Rocketeer stories in this terrific all-new special!
First, the writers of the Rocketeer film, Danny Bilson and Paul De Mel, and illustrator Adam Hughes brings us a tale featuring pioneering aviator Amelia Earhart. Second, Rober Windom (Seven Sons) and Jae Lee craft a story of the Rocketeer fighting a Japanese Zero in the South Pacific. And the third entry is by Kelvin Mao (director of the Dave Stevens documentary Drawn To Perfection, and co-writer of Seven Sons) and artist extraordinaire Craig Cermak. While on a date with Betty, our man Cliff encounters a vaguely familiar adventure/archeologist. What kind of trouble will this spell for our hero? You'll have to grab a copy of this special one-off issue to find out!
Our last comic this week Cat Fight #1. John Wick meets Kill Bill meets CATS? Felix lives a life of high fashion and indulgence. Sure, he steals to get it, but he gets it on his own, nonetheless. When a mysterious characters he name of Schrödinger threatens Felix's only surviving family member in an attempt to recruit him into a crime syndicate, Felix is sent on a globetrotting game of cat and mouse in a heightened world of colorful criminal masterminds. 
MANGA CORNER!! 
Welcome to the manga corner where we talk about all things manga! This week we have only one mangas that will blow your mind! 
The manga this week is Goodbye, Eri. An emotional tour de force that takes the manga medium to new heights! From Chainsaw Man Creator Tatsuki Fujimoto!
Young filmmaker Yuma contemplates suicide after the death of his mother, but a chance meeting with a mysterious girl will alter his life in an explosive way. Yuta's moviemaking career started with a requsest from his mother to record her final moments. After her death, Yuma meets a mysterious girl name Eri, who takes his life in a new direction. The two begin creations a movie together, but Eri is harboring an explosive secret. 
KIDS CORNER FOR JUNE
This month we only have one book for the Kids Corner. It is Katie the Catsitter Book 3: Secrets and Sidekicks.
Calling all graphic novel fans! Get ready for sidekick training (and  friendship drama!) with Katie the Catsitter in book 3 of the purr-fectly irresistible, bestselling middle-grade graphic novel series about growing up, friendship, heroes, and cats (lots of cats)!

"Readers will revel in the heroic antics." —The New York Times

What's better than BFFs? Super sidekick BFFs! Katie can't wait to have Beth join her for sidekick training! Until . . . it turns out Beth might be a way better sidekick than Katie! And now Beth and Marie are hanging out all the time, Jess is acting super weird, and Katie still needs to tell her mom about being a sidekick. Oh yeah, and giant robots are attacking the city. So. That's not great.

Can Katie and 217 super-unusual cats work together to save the city (and seventh grade)? Or is Katie about to be in super trouble? Bonus: includes instructions to make your own friendship bracelet!

Looking for more cats and more fun?! Don't miss Katie the Catsitter and Katie the Catsitter: Best Friends for Never! (https://www.penguinrandomhouse.com/books/672366/katie-the-catsitter-3-secrets-and-sidekicks-by-colleen-af-venable-illustrated-by-stephanie-yue/)
Did you know we also do COMIC GRADING?? Come and see us on the first Friday of the month with your favorite, or just a great comic you want to get graded. We have had some fantastic entries and even better grades. All comic book grading is done by CBCS and EGS. 
Chaz and Dina have partnered with Comic Books for Kids/ Comic Books for Troops (https://www.comicbooksforkids.org/) to donate comics to sick kids and our honorable troops. 
Be on the lookout for the next blog. Don't forget to come in if you have any questions about anything on the blog or if you just want to come by and say hello. Until next time!
Visit our store HERE!
Our online store HERE!
Like us on FB HERE!
Like The Adventure Stadium on FB HERE!
The Adventure Begins | 525 Woodland Square Blvd. #130, Conroe, TX 77384 | 936-273-3223