Login
Log in if you have an account
Dont have an account? Register
Sports Cards and Stuff | Panini Player of the Day 2022
08 Mar 2022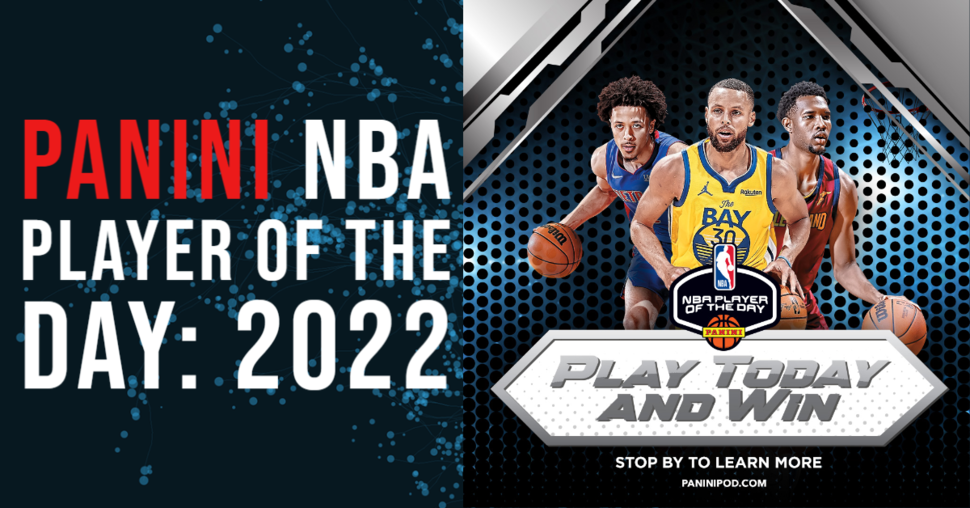 Starting this month and going until May 1, Panini and their partner retailed stores put on a 30-day event and ultimately give one person an amazing prize: one on one time with a historical athlete. Our Player of the Day program runs from March 11 to April 9; it will start just before and end right after March Madness! 
How do you play (and win)?
To play in the annual event, all you have to do is buy a pack or a box of Panini NBA cards, pull the featured player of the day or any of the three wild card players, then you win and become a daily winner! For example, if you purchase a sealed box of any Panini NBA product, we will assume you won twice and get two silver packs of Panini NBA cards. After you win a daily prize, you'll be entered into a drawing for the weekly winner. Throughout the event, there will be four weekly winners! We will pull a Store Grand Prize winner of those four weekly winners! Each level of winners will get an increased value of prizes! 
To qualify as a daily winner, if you pull the daily player or any wild card players, you must rip the pack in the store in front of a staff member. If you want to be entered into the weekly winner drawing, you must also give the attending staff member your information so we can contact you if you win! 
Why play?
When the event is over, the Store Grand Prize winner will be entered into the nationwide sweepstakes to win even more prizes and experiences! According to Panini, "Past NBA Player of the Day Grand Prize winners have had one-on-one experiences with such superstars as Karl-Anthony Towns, Shaquille O'Neal, Aaron Holiday, Matisse Thybulle and RJ Barrett." This is just a taste of what you could win! Weekly winners in our store will get five silver packs of cards and a Panini t-shirt! In addition, the Grand Winner will win an autographed and slabbed card.
Who can play?
It doesn't matter how old you are. You can play in the Panini Player of the Day event no matter your age! Although, if you're a minor, you may need a parent or guardian to approve and accompany you if you win the national sweepstakes!!
If you aren't a local guest, please visit this link to see participating stores in your area! 
Visit our store: https://theadventurebeginscomicsandgames.com/
Our online store: https://shop.theadventurebeginstx.com/
Like us on FB: https://www.facebook.com/theadventurebeginstx/
Like The Adventure Stadium on FB: https://www.facebook.com/theadventurestadiumtx
The Adventure Begins | 525 Woodland Square Blvd. #130, Conroe, TX 77384 | 936-273-3223
The Adventure Begins | 525 Woodland Square Blvd. #130, Conroe, TX 77384 | 936-273-3230