Login
Log in if you have an account
Dont have an account? Register
The Grand Adventure Blog 5.23.23
23 May 2023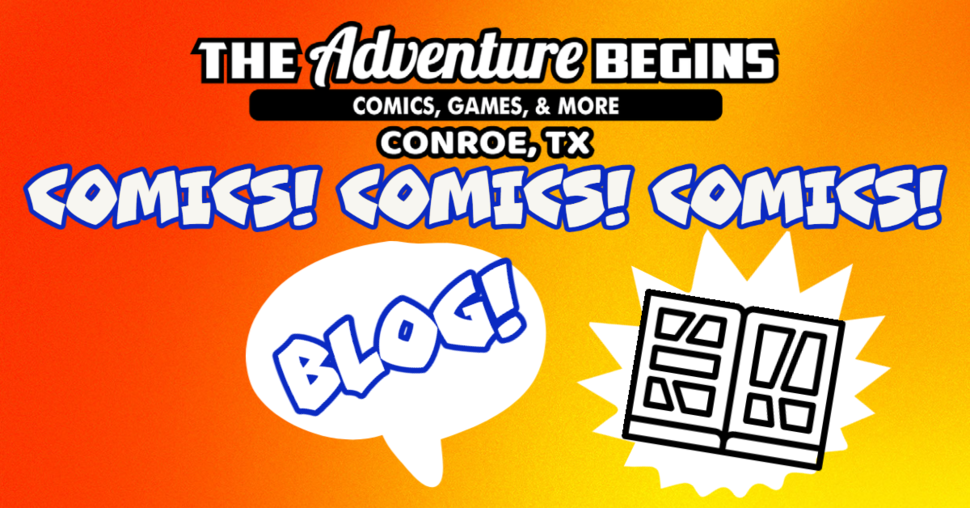 Welcome to the Grand Adventure Blog! I am your host, Samantha. This week we are going to explore some crazy comics, manga and more!! So be on the lookout for some new reading material! 
Fun fact of the day: In 1897 the very first comic was The Yellow Kid in McFadden's Flats. This book wasn't like the comic books we've grown to love today. Instead, it was reprints of black and white comic strips from the local newspaper. (https://a-bussman.medium.com/8-facts-you-might-not-know-about-comic-books-c4b92d12f358)
COMIC LOTTERY!! 
We have a LOT of comics coming to you this next week for the lottery!! Be sure to look at the names and labels as some are the same comic but different variants!! 
BATMAN THE BRAVE AND THE BOLD #1 CVR D INC BRYAN HITCH (1:25)
CYBORG #1 (OF 6) CVR D INC NIKOLAS DRAPER-IVEY CARAD STOCK CAR (1:25)
SPIDER-MAN #7 HUMBERTO RAMOS 2ND PRINTING RATIO VIRGIN VARIANT (1:25)
TITANS #1 CVR E INC DAN MORA CARD STOCK CAR (1L25)
DISNEY VILLAINS MALEFICENT #1 CVR H 10 COPY INCV CHS HOMAGE (1:10)
GUARDIANS OF THE GALAXY #2 KEV WAKER DESIGN VARIANT (1:10)
Comic Book Rec's!!
Comics this week are so amazing! I am so excited to share these with you!! Without further ado! 
The first comic this week is Storm #1. Storm faces the blowback of her powers. Orono Munroe, aka Storm, has been a thief, a goddess and a leader of the X-Men- and she's just getting started. With her mutant ability to control the weather bolstered by her top-notch fighting skills, she's a formidable opponent like no other (as Callisto of the Morlocks can attest)! But when an elemental power emerges near the Xavier Mansion, it'll take Storm to the limit of her powers and beyond! Get ready for an electrifying all new series showcasing Storm's days of rocker her Mohawk and leading the X-Men, as she faces ALL NEW VILLAINS that will threaten to tear her apart from her team…and what she thought she knew about herself. 
The second comic this week is City Boy #1. First seen in Wildstorm 30th Anniversary Special and Lazarus Planet: Legends Reborn, there is a new Korean her named…CITY BOY! Or at least, that's the best translation of what the cities call him. City Boy a.k.a. Cameron Kim, is just trying to make a living by using his powers of being able to speak to cities to find lost and hidden goods to pawn, and its only just enough to get by. And those abilities mean he hears everything everywhere all the time, including each city's histories and the truths behind them. (It's very loud in his head and sometimes he has to live with it.) As his powers get stronger, the cities start forming animal avatars from scraps in order to physically travel alongside him on his adventures. Of course, Gotha is a rat avatar made of city scraps, but wat about Metropolis, Bludhaven, Amnesty Bay, or even Themyscira? And not all cities are so kind…
Our last comic this week The Neighbors #3. Janet finds trouble with the locals as she becomes aware of a suspicious lack of children in town…while Cunnanock's picture perfect visage falls apart. Meanwhile, supernatural threats aren't the only worries on Oliver's mind, as suspected transphobia in town threatens his well being, and the palpable strangeness of Agnes's house draws Isobel in. 
MANGA CORNER!! 
Welcome to the manga corner where we talk about all things manga! This week we have two mangas that will blow your mind! Next week will have some exciting news as well for the world of manga. 
The manga this week is Choujin X vol. 2. Tokyo and his new choujin buddy Ely are now training to become sure powered protectors of the prefecture. But in addition to having to cram their noggins full of choujin and regulations, they have to deal with fledgling abilities that won't always do what they're supposed to…in ways both embarrassing and dangerous!
The second manga this week is Polar Bear's Cafe Collector's Edition vol. 2. Life goes on for Polar Bear and the regulars at his comforting cafe. Rin Rin, who runs a flower shop near the zoo, is obsessed with Panda-kun, and tries various ways of getting closer to him. And we learn more about the friendship of Polar Bear-san and Grizzly-san when they were little cubs. Get ready for volume 2 of this serene slice-of-life manga filled with fluff and food and humans and animals coexisting. 
KIDS CORNER FOR MAY
This month we only have one book for the Kids Corner. It is Katie the Catsitter Book 3: Secrets and Sidekicks.
Calling all graphic novel fans! Get ready for sidekick training (and  friendship drama!) with Katie the Catsitter in book 3 of the purr-fectly irresistible, bestselling middle-grade graphic novel series about growing up, friendship, heroes, and cats (lots of cats)!

"Readers will revel in the heroic antics." —The New York Times

What's better than BFFs? Super sidekick BFFs! Katie can't wait to have Beth join her for sidekick training! Until . . . it turns out Beth might be a way better sidekick than Katie! And now Beth and Marie are hanging out all the time, Jess is acting super weird, and Katie still needs to tell her mom about being a sidekick. Oh yeah, and giant robots are attacking the city. So. That's not great.

Can Katie and 217 super-unusual cats work together to save the city (and seventh grade)? Or is Katie about to be in super trouble? Bonus: includes instructions to make your own friendship bracelet!

Looking for more cats and more fun?! Don't miss Katie the Catsitter and Katie the Catsitter: Best Friends for Never! (https://www.penguinrandomhouse.com/books/672366/katie-the-catsitter-3-secrets-and-sidekicks-by-colleen-af-venable-illustrated-by-stephanie-yue/)
Did you know we also do COMIC GRADING?? Come and see us on the first Friday of the month with your favorite, or just a great comic you want to get graded. We have had some fantastic entries and even better grades. All comic book grading is done by CBCS and EGS. 
Chaz and Dina have partnered with Comic Books for Kids/ Comic Books for Troops (https://www.comicbooksforkids.org/) to donate comics to sick kids and our honorable troops. 
Be on the lookout for the next blog. Don't forget to come in if you have any questions about anything on the blog or if you just want to come by and say hello. Until next time!
Visit our store HERE!
Our online store HERE!
Like us on FB HERE!
Like The Adventure Stadium on FB HERE!
The Adventure Begins | 525 Woodland Square Blvd. #130, Conroe, TX 77384 | 936-273-3223