Login
Log in if you have an account
Dont have an account? Register
Adventure Board Game Post 6.16.23
16 Jun 2023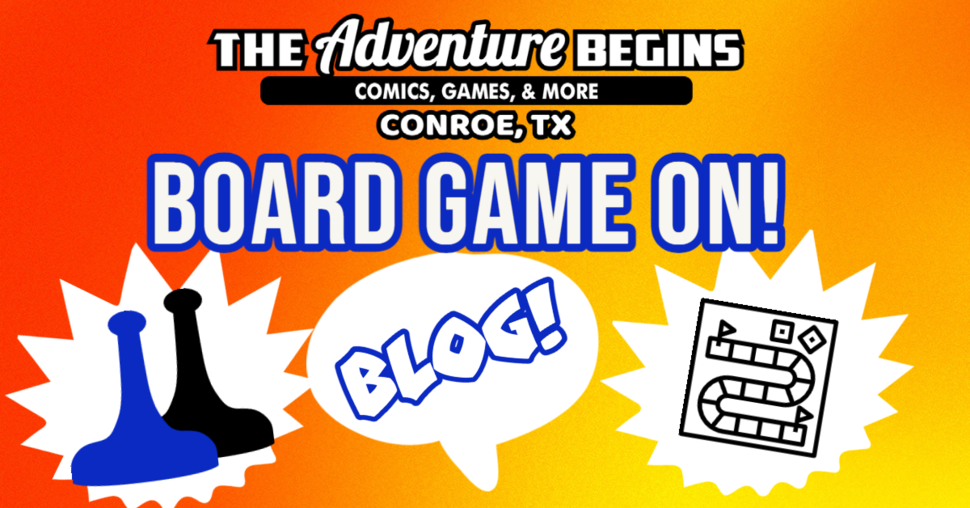 Welcome to the Adventure Begins Game Blog. I am your host, Samantha.  This is a strictly board game blog. We have many blogs but this one is just a piece of cake.
Fun Fact: Nintendo made Mario by accident
Unable to get licensing rights to a Popeye game, Nintendo created a Bluto-like character named Donkey Kong, and Popeye turned into Jumpman. When the game hit America, the Nintendo team changed Jumpman's name to Mario (as in Super Mario) after the company's warehouse landlord at the time. Mario is a video game classic.  (https://www.rd.com/list/game-facts-and-trivia)
We have some amazing new board games for you to come and check out. The first one is: Epic Encounters: Nest of the Dinosaur. Pitch your players into a deadly dinosaur encounter 365 million years in the making! Part of the Epic Encounters range, this 5e-compatible boss box contains all the ingredients for a reptilian rumble of the ages.
(This set includes a highly detailed two-headed dinosaur miniature on a 100mm base!)
Compatible with fifth edition or any fantasy roleplaying game, Nest of the Dinosaur pits you against a slavering saurian with two heads, rapier claws, and a cold, reptilian cunning. Hungry for more? Pair this encounter with Steppe of the Lizard Thane for a truly epic, cold-blooded campaign!
From vast herbivores to nimble raptors, dinosaurs have inspired fascination for centuries. But the greatest adulation is reserved for the enormous carnivores whose mighty feet shook the earth in times gone by. In most places, these beasts have been consigned to the history books. Not here. Dinosaurs still stalk these lands. And – thanks to its two monstrous heads – this dinosaur is even more deadly than the rest.
Whether the two-headed dinosaur is a dream creature born from the night terrors, a beast with psychic power, a strange mutant, or something else entirely is up to the Game Master.
Will you live to tell this tale of Jurassic jeopardy? Or end up dinner for a death-dealing dinosaur? (https://steamforged.com/products/epic-encounters-nest-of-the-dinosaur)
 Our next board game is: Epic Encounters: Steppe of the Lizard Thane. A people as ancient as the steppe they call home, the Lizard Folk whisper of war in uncanny, hissing voices. Nearby kingdoms live in fear of their brutal raids and the destruction left in their wake. Some say they eat the dead. Others believe they wield alien magic. One thing's for sure: no one has dared venture into their realm for many a year. Until now.
Inside this box is everything you need to run a reptilian roleplaying encounter. Perfect for new and experienced players, Steppe of the Lizard Thane is ready to play, right away, as part of a new or existing campaign. The Lizard Folk are brutal warriors who fight with savage ferocity. Their lightning raids leave few survivors. Can you survive against these cold-blooded combatants of the steppe? Danger, discovery, and adventure await!
Designed to work with the 5th edition of the world's favorite roleplaying game, this set gives any Gamemaster the tools to create a cinematic experience that will challenge and thrill their players.(https://steamforged.com/products/epic-encounters-steppe-of-the-lizard-thane)
The next board game is:Conquest – the Last Argument of Kings is a mass battle wargame produced by Para Bellum Wargames. The rules of the game have been written by one of the industry's lead game designers, Alessio Cavatore and his studio Riverhorse. The rules are quick and easy to learn for a new player but are still able to offer a new and complex strategy to master. Conquest does away with player turns and army deployment. Instead, it focuses its play around the command stack mechanic, where each player determines at the beginning of the round what order his troops are going to be activated in. Coupled with a unique escalation reinforcement mechanic where light, medium and heavy troops each have their roles, the fog of war is a very real thing. (https://boardgamegeek.com/boardgame/386081/conquest-last-argument-kings-20)
Don't forget we do offer board game night every 2nd and 4th Thursdays from 6-close. You should come out and test board games to your heart's desire!! Don't forget to check in monthly and see what events we have going on in June!!