Login
Log in if you have an account
Dont have an account? Register
Comics Comics and more Comics! 9/27/22
28 Sep 2022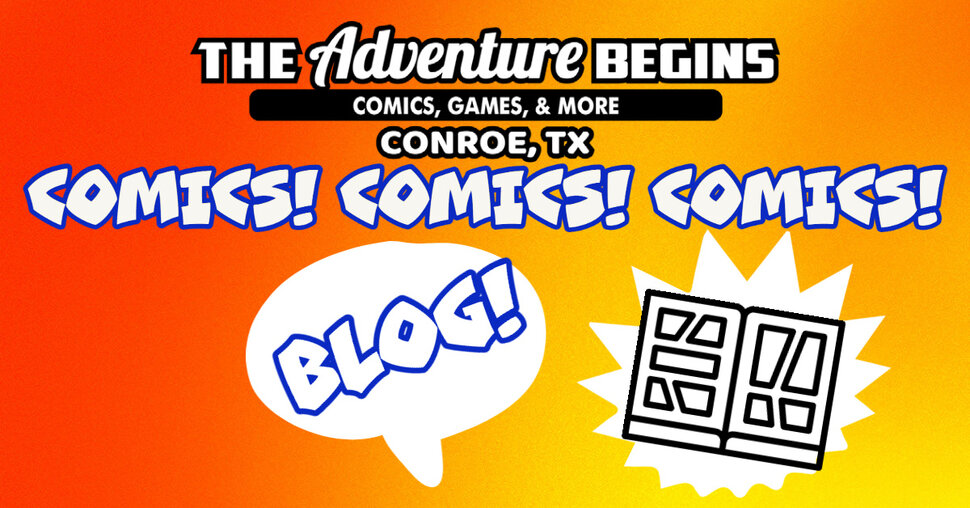 Welcome to the Grand Adventure Blog! I am your host, Samantha. This week we are going to explore some crazy comics and manga!! So be on the lookout for some new reading material! 
Fun fact of the day: The Golden Age of Comic Books began in June 1938 with the debut of Superman in Action Comics #1. Batman premiered less than a year later in Detective Comics #27.
COMIC LOTTERY!! 
We have a LOT of comics coming to you this week for the lottery!! Be sure to look at the names and labels as some are the same comic but different variants!! 
BATMAN ONE BAD DAY TWO-FACE #1 (ONE SHOT) CVR C INC (1:25) STANLEY ARTGERM LAU VAR

HARLEY QUINN 30TH ANNIVERSARY SPECIAL #1 (ONE SHOT) CVR J INCE (1:25) AMANDA CONNER CAR

EDGE OF SPIDER-VERSE #4 CHEN DESIGN VARIANT (1:10)

NEW MUTANTS #30 REIS DESIGN VARIANT (1:10)

X-TERMINATORS #1 MULLER DESIGN VARIANT (1:10)
Don't forget we are also a BAD IDEA Destination store!! And true to Bad Idea's history of shenanigans, they are running a promotion for the launch. Details here: https://shop.theadventurebeginstx.com/preorder-bad-idea-two-part-one-all-in-1.html
Comic Book Rec's!!
Comics this week are so amazing! I am so excited to share these with you!! Without further ado! 
The first comic this week is The Nice House on the Lake #10. The plan is in motion. The pieces are in place. The trap is sprung, Norah's in position to wrest control of the Nice House from Walter–unless of course, something goes wrong. But they've thought of everything. What could go wrong?
Our second comic this week is The Department of Truth #21. Cole Turner's loyalties to the Department of Truth have been tested time and again. Now that a mysterious murder threatens to turn a Cold War into an all-out conflict, those loyalties may finally reach their breaking point…
MANGA CORNER!! 
Welcome to the manga corner where we talk about all things manga! This week we have two mangas but they will blow your mind! Next week will have some exciting news as well for the world of manga. 
The manga this week is Night of the Living Cat vol.1. A virus spreads across the world, transforming all humankind into wild, slavering, furry beasts: cats, to be precise. Those few survivors who remain human take refuge in the dark corners of the earth as they fight back against the feline horde. Kunagi, a man with no memory of his past yet a deep knowledge of cats, struggles to hold on with only his wits and a will to survive. Yet the virus transmits merely through cuddles, and Kunagi finds kitties so hard to resist! Is his willpower strong enough to withstand this hair-raising cat-tastrophe?
The second manga this week is My Hero Academia vol. 32. With society wavering on the verge of collapse in the wake of the recent chaos, Midoriya has left his school and friends behind in order to save whatever lives he can out on the streets and lure All For One into the open. But the mastermind villain has his own plans and sends villains for hire after Midoriya, including one familiar face. Chief among these hired guns is Lady Nagant—a fallen former hero who delivers plenty of bang for her buck.
Did you know we also do COMIC GRADING?? Come and see Macayla on the first Friday of the month with your favorite, or just a great comic you want to get graded. We have had some fantastic entries and even better grades. All comic book grading is done by CBCS and EGS. 
Chaz and Dina have partnered with Comic Books for Kids/ Comic Books for Troops (https://www.comicbooksforkids.org/) to donate comics to sick kids and our honorable troops. 
Be on the lookout for the next blog. Don't forget to come in if you have any questions about anything on the blog or if you just want to come by and say hello. Until next time!
Visit our store HERE!
Our online store HERE!
Like us on FB HERE!
Like The Adventure Stadium on FB HERE!
The Adventure Begins | 525 Woodland Square Blvd. #130, Conroe, TX 77384 | 936-273-3223