Login
Log in if you have an account
Dont have an account? Register
Comics Comics Comics! | Back Stock Comics!
09 Jan 2021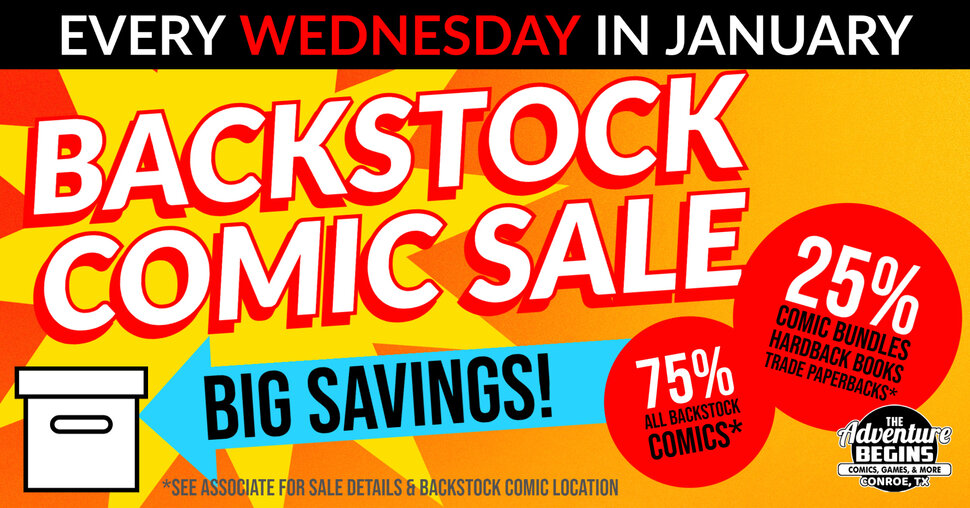 What About Back Stock?
When we're talking back stock, we're talking about the variety of back issue comics that are in-store and ready for purchase!  January is a great month to pick up older issue comics to complete a series or dive into a new series.  If you take a little time to examine the back stock boxes, you may just find some issues you need or a few oldies but goodies you've been meaning to pick up.   
Not sure what series or titles to indulge in, that's okay!  Come in-store and explore available titles and look through ones that may interest you. The great thing is you could discover a new series to read or maybe even pick up copies for a friend or family member.
Another awesome reason to look at back stock is that every Wednesday in January, all back stock comics are 75% off!! That makes it all the better, grab some back issues, catch up on some series you've missed, and get them all at 75% off the cover price. There is no way to get better than this deal.  
Visit our store: https://theadventurebeginscomicsandgames.com/
Our online store: https://shop.theadventurebeginstx.com/
Like us on FB: https://www.facebook.com/theadventurebeginstx/
The Adventure Begins | 525 Woodland Square Blvd. #130, Conroe, TX 77384 | 936-273-3223
Happy Comic Hunting!