Login
Log in if you have an account
Dont have an account? Register
Comics Comics Comics | Grand Adventure 7.18
18 Jul 2022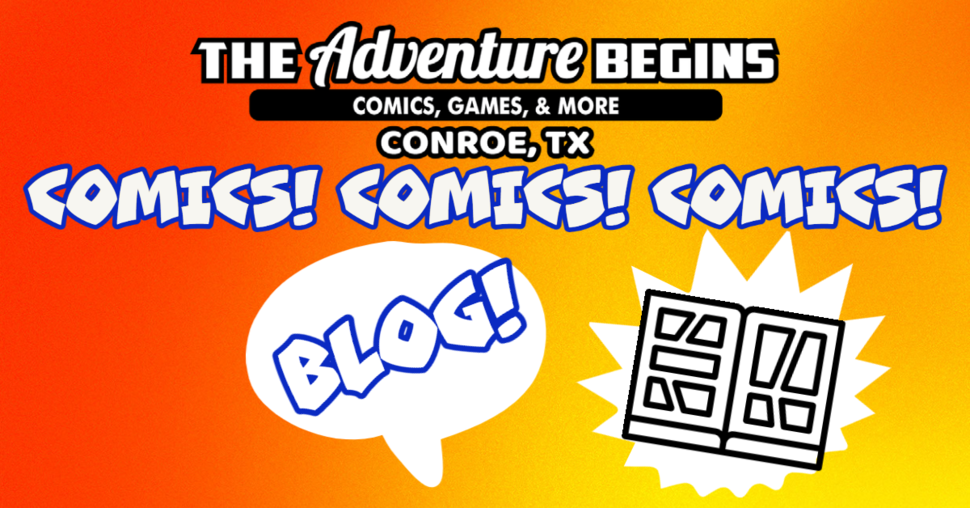 Welcome to the Grand Adventure Stadium. I am your host Samantha. This week we are going to explore some crazy comics and mangas!! So be on the lookout for some awestamazing things!!
COMIC LOTTERY!! We have 7 comics going for this week's lottery!! Have you seen them? Did you watch Tuesday's video?? We have some amazing comics ready for your browsing!
Comic Lottery:
Daredevil #1 Stegman Variant (1:25)

Star Wars: The Mandalorian #1 David Aja Variant (1:25)

Barbaric Harvest Blades (one shot) CVR D INC 1:10 John BIvens Var

D&D Ravenloft Orphan of Agony Isle #1 CVR C 10 Copy INCV Z (1:10)

Mindset #1 CVR D Shehan 10 Copy INCV (1:10)

Star Wars: The Mandalorian #1 Concept Art Variant (1:10)
Comics this week are so amazing! I am so excited to share these with you!! Without further ado! 
Blood Stained Teeth #4. It's a bad trip with Atticus Sloane gets trapped inside the memory palace of Dr. Now- a vampire who feeds not just on blood, but on memories themselves. Can Atticus escape before his consciousness is consumed forever? Featuring guest art from series co-creator, Eisner-winning artist CHRISTIAN WARD.
Alice Ever After #4. Alice, at the mercy of her father and Dr. Madsen, faces a terrifying danger, as well as a ghoulish truth that is finally revealed. The secrets she carries would be too much for her family's reputation, and Dr. Madsen could do the unthinkable to silence her forever. Will someone who's helped Alice in the past once again come to her aid? Or will her mind be lost forever?
Faithless III #6. Three years in the making, the finale of Brian Azzarello and Maria Llovet's unprecedented erotic thriller triolgy arrives! What fate will await Faith and a familiar friend, as everything comes to a head?
MANGA CORNER!! Welcome to the manga corner where we talk about all things manga!! This week we only have one manga but it's going to blow your mind!
Let me introduce to you Box of Light Vol. 1.  The critically acclaimed, spooky tale of a haunted convenience store. A quiet convenience store at the crossroads between life and death. Its faint glow in the darkness draws in transient souls, pulling them closer to the final purchase they'll ever make. Prepare for shadowy creatures, strange employees, and an air of dread in this delightfully creepy supernatural tale. This beloved tale was awarded a top spot in both the Kono Manga wo Yome! and Kono Manga ga Sugoi! rankings in Japan. 
Did you know we also do COMIC GRADING?? We do!! Come and see Macayla on the first Friday of the month with your favorite, or just a great comic you want to get graded. We have had some amazing entries and even better grades. All grading is done by CBCS and EGS. 
Chaz and Dina are collecting comics and donations for comics for Kids and Troops. They have partnered with Comic Books for Kids/ Comic Books for Troops (https://www.comicbooksforkids.org/), to donate comics for kids who are sick and to send out to our troops all over the world. Don't have comics and don't want to purchase any? That is fine, there is a donation box where you can donate. All donations are welcome. 
Be on the lookout for the next blog. We are having some fun and exciting things going on in the month of June. Don't forget to come in if you have any questions about anything on the blog or if you just want to come by and say hello. Until next time!
Visit our store HERE!
Our online store HERE!
Like us on FB HERE!
Like The Adventure Stadium on FB HERE!
The Adventure Begins | 525 Woodland Square Blvd. #130, Conroe, TX 77384 | 936-273-3223
Tags: cards, comics, sports, games, store, more, adventure, begins