Login
Log in if you have an account
Dont have an account? Register
Comics Comics Comics | The Adventure Begins Blog!
21 Mar 2022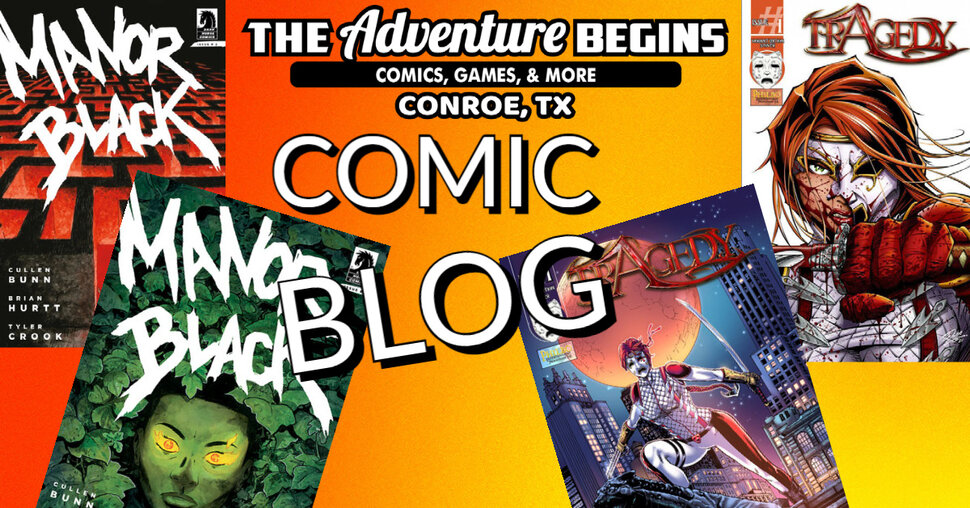 Welcome one and all to the Adventure Begins Blog. I am your host, Samanth Mills. I know it seems like it's a long time coming but I promise you, it's going to be well worth the wait. I am so excited for you to be here and read all this exciting news. Did you know that the first comic can be dated back to 18th century Japan? Although they became popular in the 1930's in the United States and the United Kingdom. They consisted of what we call today the funny paper. They were small strips of humorous comic strips to help people in times of need. 
We have some amazing comics for you. Tragedy, written by Philip Russertt and illustrated by Ricardo Silva, is a book about a young woman who is plagued with a past she can't out run. Phillip Russertt's description of the series: "Tragedy is a tale of Grace O'Connor facing her inner demons while facing the mob and meta-humans. This is a world of super-powered people, assassins, mob bosses, magic and Chinese mysticism. Readers will experience Grace's journey of self-discovery while watching amazing action sequences unfold. Will Grace O'Connor finally find peace? Or will they all rest in peace? If you like characters that you can relate to on a human level while experiencing intense action, super powers and magic then this 30 page beautifully drawn book is for you. If you love stories with villains you hate to love and villains you love to hate all while relating to our hero then I recommend you pledge on this book." (https://www.firstcomicsnews.com/tragedy-kickstarter/) 
Another great comic to pick up that is only a few issues in is Manor Black. The story was originally announced as a "gothic soap opera" in its inaugural release in 2019, which is a four part mini series. Authors Cullen Bunn and Brian Hurtt had played around with the idea for some time, that was until the artist, Tyler Crook came along. The new series Fire in Blood came out in February of 2022 with Brian Hurtt sharing the artistic duties with Crook. This is the second mini series and one that is a great read. 
Did you know we also do COMIC GRADING?? We do!! Come and see Macayla on the first Friday of the month with your favorite, or just a great comic you want to get graded. We have had some amazing entries and even better grades. All grading is done by CBCS and EGS. 
Chaz and Dina are collecting comics and donations for comics for Kids and Troops. They have partnered with Comic Books for Kids/ Comic Books for Troops (https://www.comicbooksforkids.org/), to donate comics for kids who are sick and to send out to our troops all over the world. Don't have comics and don't want to purchase any? That is fine, there is a donation box where you can donate. All donations are welcome. 
On this weeks Comic Lottery is only one comic. This comic is a great one, its a 1:10 Grimm Universe Bronze Edition. This cover is AMAZING!! Let me tell you. If you don't grab it I will. Don't forget to check out the Comic Lottery show on Tuesday's at 5:30 pm, on Twitch at the THERNRNERD. 
We have some amazing mangas to talk about today as well and let's not waste another minute. First, did you know that in the 12th and 13th century is when the first recorded "manga" was recorded? They were known as Choju Jinbutsu Giga, or Scrolls of Frolicking Animals. They are the oldest examples of storytelling in Japanese Art. 
Now onto the Mangas. First up we have Jujutsu Kaisen! This story is one of the most popular manga I have seen in a long time. With an anime out as well, this story keeps getting more and more popular. Written and illustrated by Gage Akutami was originally released in March of 2018. The main character is none other than a boy named Yuuji Itsdori. Did you know this story is actually a sequel to Akutami's Tokyo Metropolitan Curse Technical School? This manga though is one of those you don't want to miss. Yuuji is a fit high schooler who has joined an Occult Club. Members of that club found a cursed object, which happens to be a finger (ewww gross), and unseal the talisman on the finger. Bad things start to happen and Yuuji swallows the finger, to save his friends and the school. He did this by remembering what his grandfather told him on his deathbed, "always help others" and "die surrounded by people". In order to see how Yuuji does and what the curse is, come in and ask for Jujutsu Kaisen! 
The next manga we have is Kaiju No. 8. If anyone has seen the movie Pacific Rim, the term Kaiju may be familiar. Kaiju are Godzilla-like monsters that have been appearing around Japan for years. To combat these monsters, an elite military unit known as the Defense Corps risks their lives to protect the lives of those around them and the country. The story follows a 32 year- old- man named Kafka Hibino who is a sweeper, but has always dreamed of joining the Defense Corps. After a few failed attempts, he resigns himself to being nothing but a sweeper, that is until a young recruit named Leno Ichikawa joins his cleaning crew, reminds him of his dream once more. Come in and grab a manga or two to see what happens and how Kafka and Leno deal with the world around them. 
Be on the lookout for the next blog. We are having some fun and exciting things going on in the months of April and May. Don't forget to come in if you have any questions about anything on the blog or if you just want to come by and say hello. Until next time!