Login
Log in if you have an account
Dont have an account? Register
Grand Adventure 6.20.23
20 Jun 2023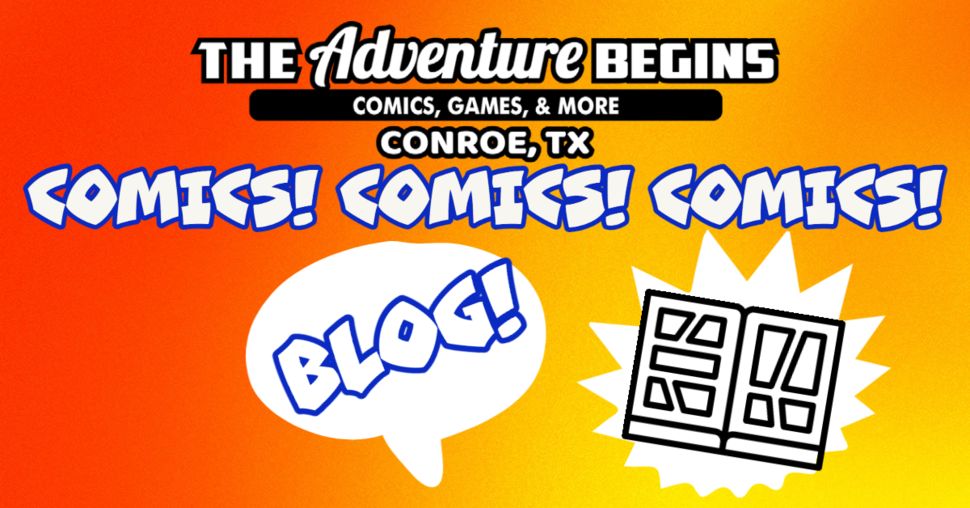 Welcome to the Grand Adventure Blog! I am your host, Samantha. This week we are going to explore some crazy comics, manga and more!! So be on the lookout for some new reading material!
COMIC LOTTERY!! 
We have only one comic coming to you this week for the lottery!! Chaz is back and so is our comic lottery!! Look at what's available today and get your choice in by 4:00 pm.
AMAZING SPIDER-MAN#27 LEE GARBETT VARIANT (1:25)

BLACK PANTHER #1 CHRIS ALLEN DESIGN CARIANT (1:10)
Comic Book Rec's!!
Comics this week are so amazing! I am so excited to share these with you!! Without further ado! 
The first comic this week is The Bone Orchard Mythos: Tenement #1. MINISERIES PREMIERE. From the Eisner-winning creative team behind Gideon Falls, Primordial and Ten Thousand Black Feathers, comes the biggest and most essential project yet in the bold and ambitious new shared horror universe of THE BONE ORCHARD MYTHOS!!!  In this extra-length first issue JEFF LEMIRE & ANDREA SORRENTINO bring you the story of seven residents in a building and the dark secrets that bind them together….beginning with a death that feels much more sinister than natural. TENEMENT is the nest entry in THE BONE ORCHARD MYTHOS!
The second comic this week is The Sickness #1. Feeling sick? The Man may be following you…
1945: Daniel Buss, an anxious teenager living in small-town America, has been experiencing strange symptoms: mood swings, increased sensitivity, and terrifying hallucinations, threatening to ruin his summer vacation before freshman year. Worse, a stalking presence watches Daniel's every move. 
1955: George Brooks- war vet and tireless doctor- near retirement from his decorated past. When a local housewife murders her entire family, her son- the sole survivor- is put into his care: George grown obsessed with uncovering what could drive an ordinary person to such brutality. Though they live a decade apart, their fates intertwine through a horrifying illness and the haunting figure who follows wherever they go. 
Our last comic this week Sweetie Candy Vigilante #6. THE SWEETER THE CHERRY, THE JUICIER THE BOMBZ! HELLO DADDY, HELLO MOM... SWEETIE'S A GUM BALLER - DROPPING CHERRY BOMBZ ON NYC! Goodie gumdrops! It's the grand opening of the new Sweetie Candy Vigilante sweet shop, fully transformed, with obsessed customers lined-up to be the first to sample the 'sweet' new life and meet the CANDY VIGILANTE squad. The adoring crowd, decked out in official Candy Vigilante merch, have come to check out the goods, and hang on to Sweetie's every word. She is the OG Gumm Baller! Candy Wolf and Pixie serve-up selfies and autographs for candy-crazed fans; their verified presence on social media has made them instant rock stars. At 1.5 million followers and rapidly growing, Gummee Bear's online marketing skills bring it like bees to honey-reaching a sweet new global audience with limited edition confectionary drops. Meanwhile, Tinsel has decked the halls of the NYC flagship location to max potential-and it's time to get LIT! NYPD forensics conclude the mysterious goo found on the wounds of the headless hoodlum have chemistry consistent with some seriously KILLER cherry juice, and when the homicide division pays a routine visit to the decedent's last known business address, they find the newly opened sweet shop in its place. Taken aback by Sweetie's enchanting presence and unusual, yet charming demeanor, the cops are dealt a cold case of brain freeze, and the start of a major showdown soon follows. This issue goes off like Cherry Bombz...fizzy bang boom!! Life is SWEET... don't be salty-get issue #6 of Sweetie Candy Vigilante! 
MANGA CORNER!! 
Welcome to the manga corner where we talk about all things manga! This week we have only one mangas that will blow your mind! 
The manga this week is X-Gender vol. 2. Covid-19 has hit Japan, and Asuka is struggling. Not only has the serialization of X-Gender been delayed due to the virus, the closure of Poker Face and other bars means they-ve lost access ot their community. Can they find a way to stave off the loneliness, while also dealing with their fear of getting sick?
KIDS CORNER FOR JUNE
This month we have an entire set of books for you!! They are READING LEVEL BOOKS!! Each book has its own grade and age appropriateness for the reading level. Developing strong reading skills is critically important to a child's future intellectual growth. Parents, teachers and schools look for every avenue possible to spark the love of reading in young people.  One proven method is to use a leveled reader program, which accounts for the different stages in a growing child's reading ability and comprehension. The Step-Into-Reading series by Random House Children's Books is a great program that supports this goal, organizing reading comprehension skills into 3 "steps."
These make excellent options for your own kid or all-ages section as well.  Many popular licensed characters, including superheroes, Disney and Nickelodeon characters, and more are featured in these readers, with the hope of grabbing the attention of an inquisitive kid.  There are also readers featuring original stories as well, covering subjects and themes that are generationally popular for decades.
Because of the sheer volume of reader options, I've put together a product list to help narrow the focus to those which may sell best in your own store.  The spreadsheet is organized by subject area, with the more comic store-adjacent titles on top.  Titles in green are a PRH bestseller over the last 90 days.  I've also included which "Step" belongs to each title, so you can mix or emphasize your desired age ranges as needed.
There is also a great title collection of Step Into Reading books on PRHComics.com, this is a great location to "cover skim" dozens of options very quickly.
Readers are affordably priced and are easy purchasing decisions for parents or gift-givers to make.  Every kid out there is just the right title away from becoming a lifelong voracious reader.
Finally, for those of you who are looking to add a new display to your children's area, RHCB offers an entire spinner devoted to their Step-Into-Reading series.  It ships free with a full fill of titles.  I've attached the sales PDF and feel free to contact me if you would like to learn more about placing an order or would like suggestions on recommended fill choices.
Did you know we also do COMIC GRADING?? Come and see us on the first Friday of the month with your favorite, or just a great comic you want to get graded. We have had some fantastic entries and even better grades. All comic book grading is done by CBCS and EGS. 
Chaz and Dina have partnered with Comic Books for Kids/ Comic Books for Troops (https://www.comicbooksforkids.org/) to donate comics to sick kids and our honorable troops. 
Be on the lookout for the next blog. Don't forget to come in if you have any questions about anything on the blog or if you just want to come by and say hello. Until next time!
Visit our store HERE!
Our online store HERE!
Like us on FB HERE!
Like The Adventure Stadium on FB HERE!
The Adventure Begins | 525 Woodland Square Blvd. #130, Conroe, TX 77384 | 936-273-3223