Login
Log in if you have an account
Dont have an account? Register
Sports Cards and Stuff | National Hobby Shop Day 2021
03 Dec 2021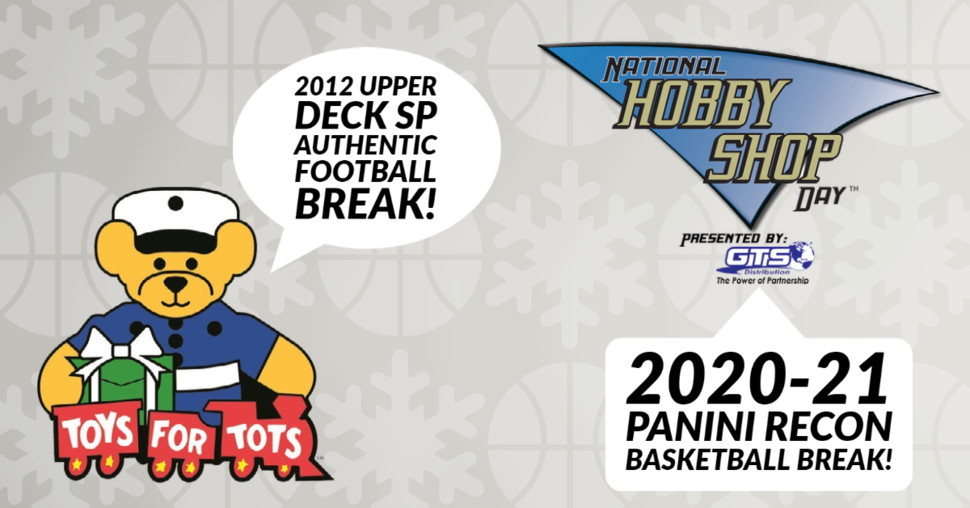 We have a lot to be thankful for this year, our loyal guests, our expansion, The Stadium getting on its feet, and so much more! 
We have two extraordinary events in a couple of weeks, the National Hobby Shop Day and a charity event for Toys for Tots. 'Tis the season for giving and looking back at the year we've had. Toys for Tots is a great organization, and we work with them consistently. Toys for Tots to give less fortunate children the opportunity to have a good Christmas. It's been a rough two years for many people, so we've decided that giving children a good Christmas is vital to us. 
On hiatus since 2020 because of COVID-19, National Hobby Shop Day (NHSD) is coming back with a brand. This year dozens of brands have come together to make this year's event one for the books! The sponsors are giving out thousands of dollars worth of products for stores to give to guests. These products include card boxes, t-shirts, grading vouchers, and a signed Najee Harris card!
We're raffling off these fantastic products to our guests! Additionally, GTS Distribution (the creator of this event) has given participating stores an allowance to host a pizza party for their guests along with these fantastic raffles! 
Our new store, The Adventure Stadium, has yet to be christened with a break, so we'll be doing two! One that benefits Toys for Tots and a standard paid break! The usual break consists of three hobby boxes of Panini Recon Basketball. For this break, you have to register online or visit our store to purchase a slot for $30. 30 teams will be randomly assigned to people. 
The Toys for Tots break is an excellent box, the 2012 Upper Deck SP Authentic Football Hobby Box. This box has some fabulous cards, and you have the chance to pull a Russell Wilson! All you have to do is come into the store on Dec. 11 and donate a qualifying toy to Toys for Tots to enter this break. Qualifying toys are new, sealed, and can't be gift wrapped. This break will take place at 5:00 pm on Dec. 11, so be sure to bring in those donations before then! There are 32 slots available with randomly assigned teams. This is an amazing opportunity for you to donate to a great cause and get something in return. We'd love to have you participate with us if you're able! 
For more details about these events as it gets closer, please reference our social media! 
Visit our store: https://theadventurebeginscomicsandgames.com/
Our online store: https://shop.theadventurebeginstx.com/
Like us on FB: https://www.facebook.com/theadventurebeginstx/
Like The Adventure Stadium on FB: https://www.facebook.com/theadventurestadiumtx
The Adventure Begins | 525 Woodland Square Blvd. #130, Conroe, TX 77384 | 936-273-3223