Login
Log in if you have an account
Dont have an account? Register
The Grand Adventure Blog
24 Apr 2023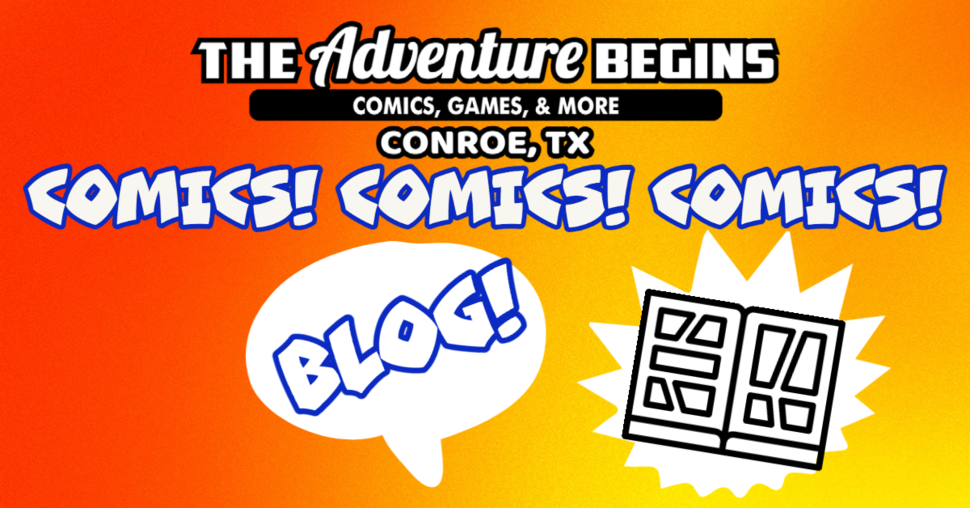 Welcome to the Grand Adventure Blog! I am your host, Samantha. This week we are going to explore some crazy comics and manga!! So be on the lookout for some new reading material! 
Fun fact of the day: In Japan, artists who illustrate manga are called mangaka.
COMIC LOTTERY!! 
We have a LOT of comics coming to you this next week for the lottery!! Be sure to look at the names and labels as some are the same comic but different variants!! 
SUPERBOY THE MAN OF TOMORROW #1 (OF 6) CVR E INC BALDEMAR RIVAS CARD STOCK VAR (1:25)
EXPANSE THE DRAGON TOOTH #1 (OF 12) CVR C INCV YOON (1:10)
Comic Book Rec's!!
Comics this week are so amazing! I am so excited to share these with you!! Without further ado! 
The first comic this week is W0rldtr33 #1. In 1999, Gabriel and his friends discovered the Undernet, a secret architecture to the Internet. They charted their exploration on a message board called W0RLDTR33. Then they lost control. Someone broke into W0RLDTR33—someone who welcomed the violent hold the Undernet had on them. At great personal cost, Gabriel and the others thought they sealed the Undernet away for good. They were wrong. And now they will know the meaning of PH34R. 
The second comic this week is Briar #4. Gendrid, the only surviving remnant of Sleeping Beauties past, seeks Briar's blood. Even the seemingly impenetrable city of Windcross and its king Rodion can't protect outRhero and her companions Spider and Roop. THe relentless Deadcrawl and his nine assassin's hunt at Grendrid's behest, and it will take everything Briar and her allies have to survive. Will they all make it out alive, perhaps with even a scrap of happy ending? And will Spider finally reveal her connection to Briar's past?
Our second comic this week is Love Everything #3. After the bloody end of issue two, Joan finds herself free in the pristine suburbs of the 1950s. But again love pulls at her, demanding her attention, her life. She fights it, fights to escape, but still, it pulls, and Joan must find a new way to fight this terror. 
Last comic this week is The Approach #1. In this turbulent new horror mini-series from writers Jeremy Haun & Jason A. Hurley and artist Jes s Hervas, a storm is coming that's bringing more than bad weather. 
When airport employees Mac and Abigail find themselves snowed in after a blizzard, they witness a terrible plane crash. After pulling a survivor from the wreckage, they realize a terrifying truth: this plane has been missing for 27 years!!! The nightmare has only just begun though, as the people trapped in the airport soon find themselves confronted by what this plane actually brought back…
For those with a fear of flying… it's not the sky that deserves dread, but what lies beyond it….
MANGA CORNER!! 
Welcome to the manga corner where we talk about all things manga! This week we have four mangas that will blow your mind! Next week will have some exciting news as well for the world of manga. 
The manga this week is Night of the Living Cat Vol.1. A virus spreads across the world, transforming all humankind into wild, slavering, furry beasts: cats, to be precise. Those few survivors who remain human take refuge in the dark corners of the earth as they fight back against the feline horde. Kunagi, a man with no memory of his past yet a deep knowledge of cats, struggles to hold on with only his wits and a will to survive. Yet the virus transmits merely through cuddles, and Kunagi finds kitties so hard to resist! Is his willpower strong enough to withstand this hair-raising cat-tastrophe?
The second manga this week is My Hero Academia Vol. 32. With society wavering on the verge of collapse in the wake of the recent chaos, Midoriya has left his school and friends behind in order to save whatever lives he can out on the streets and lure All For One into the open. But the mastermind villain has his own plans and sends villains for hire after Midoriya, including one familiar face. Chief among these hired guns is Lady Nagant—a fallen former hero who delivers plenty of bang for her buck.
Our third manga is Dandadan Vol. 1. Momo Ayase strikes up an unusual friendship with her school's UFO fanatic, whom she nicknames "Okarun" because he has a name that is not to be said aloud. While Momo believes in spirits, she thinks aliens are nothing but nonsense. Her new friend, meanwhile, thinks the exact opposite. To settle matters, the two set out to prove each other wrong—Momo to a UFO hotspot and Okarun to a haunted tunnel! What unfolds next is a beautiful story of young love…and oddly horny aliens and spirits?
Our last but not least mana is Black Paradox.Four people intent on killing themselves meet through the suicide website Black Paradox: Maruso, a nurse who despairs about the future; Taburo, a man who is tortured by his doppelganger; Pii-tan, an engineer with his own robot clone; and Baracchi, a woman who agonizes about the birthmark on her face. They wander together in search of the perfect death, fatefully opening a door that leads them to a rather bizarre destiny… 
Did you know we also do COMIC GRADING?? Come and see us on the first Friday of the month with your favorite, or just a great comic you want to get graded. We have had some fantastic entries and even better grades. All comic book grading is done by CBCS and EGS. 
Chaz and Dina have partnered with Comic Books for Kids/ Comic Books for Troops (https://www.comicbooksforkids.org/) to donate comics to sick kids and our honorable troops. 
Be on the lookout for the next blog. Don't forget to come in if you have any questions about anything on the blog or if you just want to come by and say hello. Until next time!
Visit our store HERE!
Our online store HERE!
Like us on FB HERE!
Like The Adventure Stadium on FB HERE!
The Adventure Begins | 525 Woodland Square Blvd. #130, Conroe, TX 77384 | 936-273-3223