Login
Log in if you have an account
Dont have an account? Register
The Grand Adventure Comic Blog
15 May 2023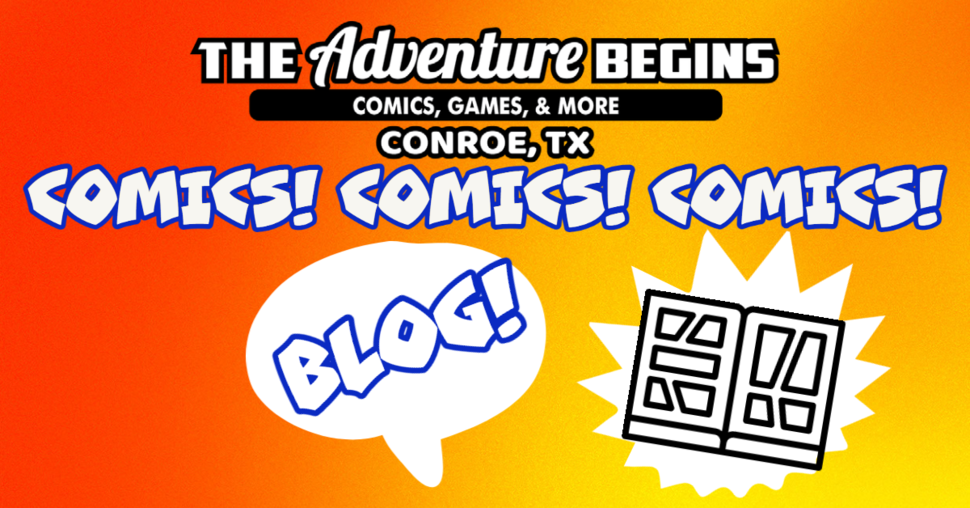 Welcome to the Grand Adventure Blog! I am your host, Samantha. This week we are going to explore some crazy comics, manga and more!! So be on the lookout for some new reading material! 
Fun fact of the day: In 1897 the very first comic was The Yellow Kid in McFadden's Flats. This book wasn't like the comic books we've grown to love today. Instead, it was reprints of black and white comic strips from the local newspaper. (https://a-bussman.medium.com/8-facts-you-might-not-know-about-comic-books-c4b92d12f358)
COMIC LOTTERY!! 
We have a LOT of comics coming to you this next week for the lottery!! Be sure to look at the names and labels as some are the same comic but different variants!! 
AMAZING SPIDER-MAN #25 ED MCGUINNESS VARIANT (1:25)
BATMAN WHITE KNIGHT PRESENTS GENERATION JOKER #1 (OF 6) CVR C INC DAN MORA VAR (MR) (1:25)
GREEN LANTERN #1 CVR E INC DANIEL SAMPERE CARD STOCK CAR (1:25)
Comic Book Rec's!!
Comics this week are so amazing! I am so excited to share these with you!! Without further ado! 
The first comic this week is Hexware #6. Hexware and the Helljumpers face the true architect of Jesi's murder as the walled Urban Zone is assaulted by zealots on one side and unstoppable androids on the other. Can Jesi retain her humanity when everything she believes in is a lie?
The second comic this week is Miss Truesdale and the Fall of Hyperborea #1. One of the last followers of a failing Heliopic Brotherhood of Ra, the unassuming Miss Truesdale, finds herself on the receiving end of brotherhood leader Tefnut Trionus's final vision. Connecting her life in Victorian London to a young gladiator's in ancient Hyperborea. Truesdale discovers she now has the chance to change the future by altering the bygone past. 
Our last comic this week Within Temptation #1. In the distant future, an endless battle rages between two species-an advanced but inherently humanoid species ruled by a techno-organic matriarch on one side, and a cruel race of alien artificial intelligence on the other. Several stories collide to paint a sweeping portrait of the matriarch's life and her struggle to balance what she was created to be with the impossible forces that shaped her. Based on the smash shit album "resist" by legendary symphonic metal band Within Temptation!
MANGA CORNER!! 
Welcome to the manga corner where we talk about all things manga! This week we have two mangas that will blow your mind! Next week will have some exciting news as well for the world of manga. 
The manga this week is Oshi No Ko Vol. 2. Pop star Ai Hoshino's twin babies Aqua and Ruby—two kids with surprising "pasts"—are basking in all the attention from their idol mother. But that bliss doesn't last long, as tragedy strikes...and alters the twins' ambitions and livelihoods!
The second manga this week is My Hero Academia Vigilantes Vol 14. The nightmare in Naruhata continues as Koichi goes toe-to-toe with Number 6, who has transformed into a horrific predator bent on ending the Crawler's life! When the situation gets a little too hot to handle, Koichi realizes this may be a job for real heroes. Until they arrive, though, the battle is up to him—with an assist from Knuckleduster! But the evil looming behind Number 6 is still spurring on the vengeful villain, who has yet to unleash his final form…
KIDS CORNER FOR MAY
This month we only have one book for the Kids Corner. It is Katie the Catsitter Book 3: Secrets and Sidekicks.
Calling all graphic novel fans! Get ready for sidekick training (and  friendship drama!) with Katie the Catsitter in book 3 of the purr-fectly irresistible, bestselling middle-grade graphic novel series about growing up, friendship, heroes, and cats (lots of cats)!

"Readers will revel in the heroic antics." —The New York Times

What's better than BFFs? Super sidekick BFFs! Katie can't wait to have Beth join her for sidekick training! Until . . . it turns out Beth might be a way better sidekick than Katie! And now Beth and Marie are hanging out all the time, Jess is acting super weird, and Katie still needs to tell her mom about being a sidekick. Oh yeah, and giant robots are attacking the city. So. That's not great.

Can Katie and 217 super-unusual cats work together to save the city (and seventh grade)? Or is Katie about to be in super trouble? Bonus: includes instructions to make your own friendship bracelet!

Looking for more cats and more fun?! Don't miss Katie the Catsitter and Katie the Catsitter: Best Friends for Never! (https://www.penguinrandomhouse.com/books/672366/katie-the-catsitter-3-secrets-and-sidekicks-by-colleen-af-venable-illustrated-by-stephanie-yue/)
Did you know we also do COMIC GRADING?? Come and see us on the first Friday of the month with your favorite, or just a great comic you want to get graded. We have had some fantastic entries and even better grades. All comic book grading is done by CBCS and EGS. 
Chaz and Dina have partnered with Comic Books for Kids/ Comic Books for Troops (https://www.comicbooksforkids.org/) to donate comics to sick kids and our honorable troops. 
Be on the lookout for the next blog. Don't forget to come in if you have any questions about anything on the blog or if you just want to come by and say hello. Until next time!
Visit our store HERE!
Our online store HERE!
Like us on FB HERE!
Like The Adventure Stadium on FB HERE!
The Adventure Begins | 525 Woodland Square Blvd. #130, Conroe, TX 77384 | 936-273-3223