Login
Log in if you have an account
Dont have an account? Register
Adventure Sports
02 Jun 2023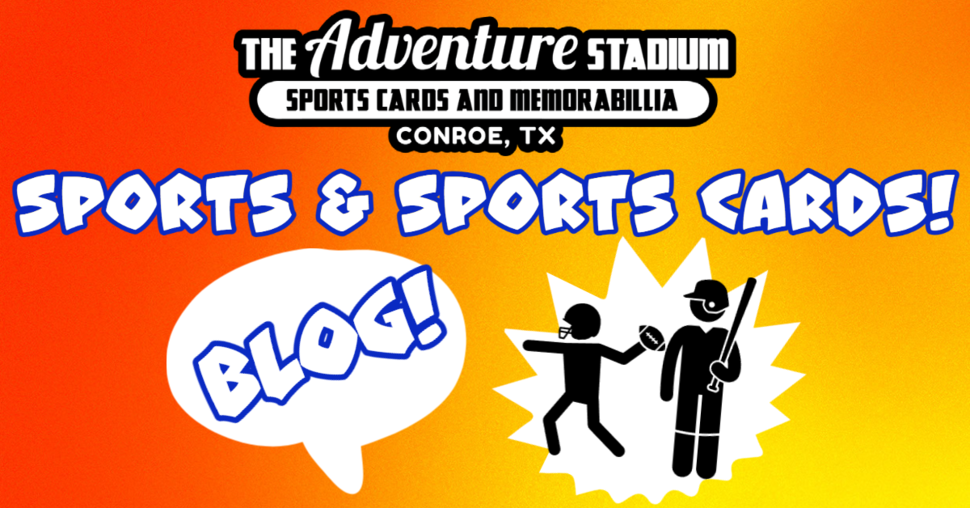 Welcome one and all to the Adventure Sports Blog. I am your host Samantha. We have a lot to get through today so bear with me as it will be a LOT of information. First and foremost we need a fun fact! 
Fun Fact of the Day: Babe Ruth acquired his 700th home run baseball by paying the fan who caught it $20. (https://www.circalasvegas.com/blog/interesting-sports-facts-and-sports-trivia/#:~:text=Babe%20Ruth%20acquired%20his%20700th,age%20of%20eight%20years%20old.
Product For the Month!!!
For the month of June we have a lot of releases. None bigger than baseball releasing June 7th, 2023. You have your Topps Series 2 Baseball. Let me tell you that checklist is banging!! We have special art cards, parallels, foils, Father's Day Blue, Mother's Day Hot Pink, and Memorial Day Camo. The jumbo's hold a special prize. A good ol' local boy has is 1/1 art cards in JUMBO!!! What's even better is that he is willing to work a deal with out BOUNTY winner for his card!!! We are doing a special release party for Series 2, like we did for Series 1. So come on by and see all the amazing items, bounties and even some fun trades going on.  (https://www.beckett.com/news/2023-topps-series-2-baseball-cards/)
2
2023 Donruss Baseball
2022-23 Bowman Chrome University Basketball *
7
2023 Topps Series 2 Baseball *
2021-22 Fleer Ultra Hockey *
2022-23 Upper Deck Extended Series Hockey
9
2022-23 Topps Finest Overtime Elite Basketball
2022-23 Panini Select FIFA Soccer
2023 Donruss UFC
14
2022-23 Panini Select Basketball
2022 Panini Select Football
2023 Panini Chronicles Draft Picks Football
2022-23 Panini Chronicles Soccer
2022-23 Panini Obsidian Soccer
16
2023 Panini Three and Two Baseball
2023 Panini Revolution WWE
21
2023 Panini Prizm Baseball
2022-23 Bowman's Best University Basketball
2022 Panini Encased Football
2023 Donruss NASCAR Racing
2022-23 Panini Immaculate Soccer
23
2023 Topps Tribute Baseball
2022 Panini National Treasures Football
27
2022-23 Topps Chrome UEFA Champions League Soccer
28
2022-23 Panini National Treasures Basketball
2022 Panini One Football
2022 Topps Renaissance MLS *
30
2023 Panini Select Draft Picks Football
2022-23 Panini Impeccable Premier League Soccer
TBA
2023 Topps Inception Baseball
2022 Bowman Chrome Road to UEFA U21 Euros Soccer
2022 Topps Chrome Road to UEFA Nations League Final
2023 Leaf Trinity Basketball
Sports Card Release Calendar – July, 2023
7
2022-23 Panini Obsidian Basketball
2022 Panini Flawless Football
2022 Panini Chronicles Football
19
2023 Panini Select Baseball
2022-23 Panini Noir Basketball
20
26
TBA
2022 Topps Chrome Platinum Baseball
2022-23 Topps Chrome Overtime Elite Basketball
2022 Leaf Trinity Baseball
Events for June & July
Our first event technically started in May. But May 29th - June 26th is the COLLEGE WORLD SERIES OF BASEBALL!! We are doing a punch card. Each time you visit you get an initial from a STADIUM employee, some days are even double days. You reach a certain one and you could get anything from free product, to a free PSA Submission to a free spot in a future Sports Break. Come in today and grab your punch card. 
Our second event is June 7th for the release of Topps Series 2 Hobby and Jumbo. We will have bounties, trades and so much more. Come and open up some products and get some amazing bounties. 
Let's go DOWNTOWN HUNTING!! We are doing a break for the 2022 Donruss Optic Football. We have 32 spots and 8 boxes to break ( 1 Hobby box and 7 Blasters). Donruss Optic FOotball is set to be one of the best football releases of the year with numbered DOWNTOWN inserts, Mythical SP's and more!! Come into the store and grab your spot. Tell them Sam sent you!
On the 3rd Sunday of EVERY MONTH, is Trade Day. It is from Noon to 6pm. Come and enjoy sharing your cards and the love of sports cards with those in the community around you. We also welcome those that do not have sports cards but other community based cards that they want to show off. Don't know how much your cards are worth and want to ensure you are getting a fair trade. We can help you out by looking up comps and explain the differences. If yo find a card, or have a card you'd like to get graded, We have that for you too!! We are currently taking submissions for PSA and HGA!
Be on the lookout for the next blog. Don't forget to come in if you have any questions about anything on the blog or if you just want to come by and say hello. Until next time!
SPORTS NEWS FOR JUNE!
Basketball Finals are HERE!!! Are you as excited for this season as I am!! With a nine day rest period behind them, the Denver Nuggets held off the Miami Heat 104-93. I am waiting for the Nuggets to win it all and surprise the hell out of the NBA World! Go Nuggest Go!
Next is College World Series for Softball!! Yesterday started this amazing round robin event for the women of softball. It is an annual event that happens in OKC, you have a domination of teams from around the country battling it out for a years worth of bragging rights. It was a hard day for 5. Alabama barely squeaking out of being run ruled against 4. Tennessee who claimed the with 10-5. Todays line p is a great match from the 15. Utah vs 7. Washington. It is going to be a massive David vs Goliath and we are here for it. 
We also have the French Open going on. As we watch it more and more in the store, I am rooting for people I never knew existed. It is crazy to think that a whole new set of tennis superstars are sneaking up on us and a lot of those we grew up rooting for are retired and now even teaching the next generations!


We have the WNBA Las Vegas Aces playing the Atlanta Dream tonight at 8:00pm est. To no ones surprise, the undefeated defending champs the Aces have been rolling over the competition. But will the Dream pull and upset at home? It is set to be an amazing game!
Don't forget that we have the FIFA Women's World Cup coming this summer!! Keep and eye out on updates and come check us out as we have the games playing and cards flowing! 
Until Next Time!
Visit our store HERE!
Our online store HERE!
Like us on FB HERE!
Like The Adventure Stadium on FB HERE!
The Adventure Begins | 525 Woodland Square Blvd. #130, Conroe, TX 77384 | 936-273-3223