Login
Log in if you have an account
Dont have an account? Register
Board Game On | Coimbra & Murano: Light Masters
22 Apr 2022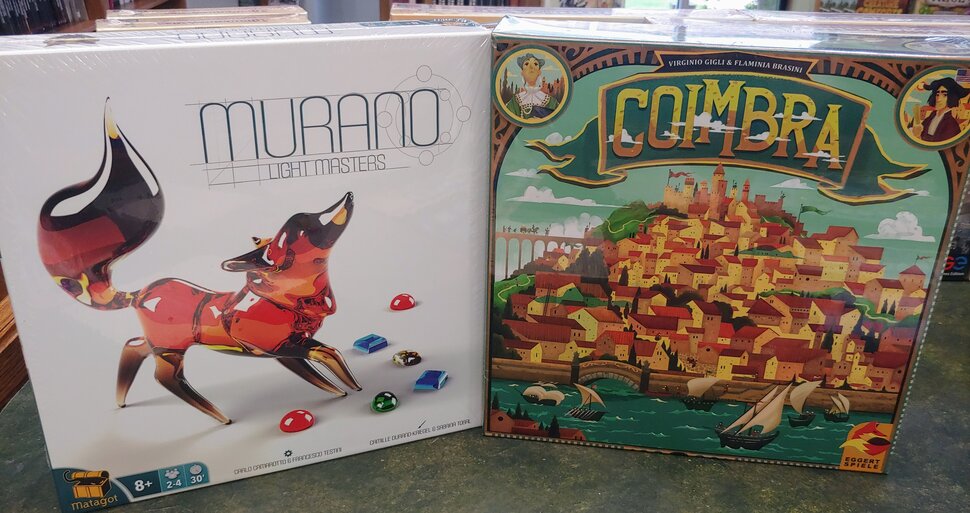 Welcome to the Adventure Board Game Blog. I am your host, Samantha. Did you know that the longest game of Monopoly lasted 70 days. 70 days, I don't know how they could do it. I would have flipped over the board and the pieces or I would have called it quits. No thank you to 70 days of Monopoly. 
We have some amazing new board games in the store. You should totally come and check out the new release and just all the board games. They are fun for all ages. 
We have Coimbra. Coimbra is based  in the 15th and 16th century, Portugal is thriving under its leading role during the Age of Discovery. Nestled in the heart of Portugal, the city of Coimbra serves as a cultural center of the country. As the head of one of Coimbra's oldest houses, you seek to earn prestige by deepening relationships with nearby monasteries or funding expeditions of the era. To reach this goal, you must vie for the favors of the city's most influential citizens, even if you must offer a bit of coin or some protective detail.
Coimbra introduces an innovative new dice mechanism in which the dice players draft each round are used in multiple different ways and have an impact on many aspects of their decision making. While there are many paths to victory, players should always seek to optimize their opportunities with every roll of the dice. Combined with ever-changing synergies of the citizens, expeditions, and monasteries, no two games of Coimbra will ever be the same!
Another new game we have also based in history is Murano: Light Masters. In Murano: Light Masters, you are at the beginning of the 13th Century. When all the glassmakers in Venice were forced to move to Murano. The island became famous, and Murano was the largest producer of glass in Europe. Embody a glassmaker and collect colored glass to make the most beautiful items while staying ahead of your competitors! Welcome to Glassmakers Island!
Selector & Ring gameplay is original and accessible

Real glass pieces bring sound and beauty to the table

Compete with others and yourself to become Grandmaster
If you have questions on any games, if we have any games, or if we have a community for a game you're looking for, ask. We are more than happy to help in any way possible. 
We have an amazing Kickstarter to talk about again. The kickstarter is Thunder Road Vendetta. It's a revamp of a car combat/ racing game from the 80's. Check out the different levels and all your Thunder Road Vendetta needs here.
We have something awesome for you!! On Sunday, April 24th- we are hosting Trilogy Brew Pop-up game days from 11 am to 4 pm. Same setup as Deacon Baldy's, game demos and a small selection of game merch. This will be recurring on the final Sunday of every month!! So mark your calendars!
Don't forget we do offer board game night every 2nd and 4th Thursdays from 6-close. You should come out and test board games to your heart's desire!! Don't forget to check in next week and see what events we have going on in April!! 
Like The Adventure Stadium on FB here
The Adventure Begins | 525 Woodland Square Blvd. #130, Conroe, TX 77384 | 936-273-3223
Tags: cards, comics, sports, games, store, more, adventure, begins