Samantha Mills - 13 / May / 2022
Board Game On | Featured Titles for May 9th
We have a couple of games for you this week. Some of them I haven't even heard of, but after doing research…I need them in my life.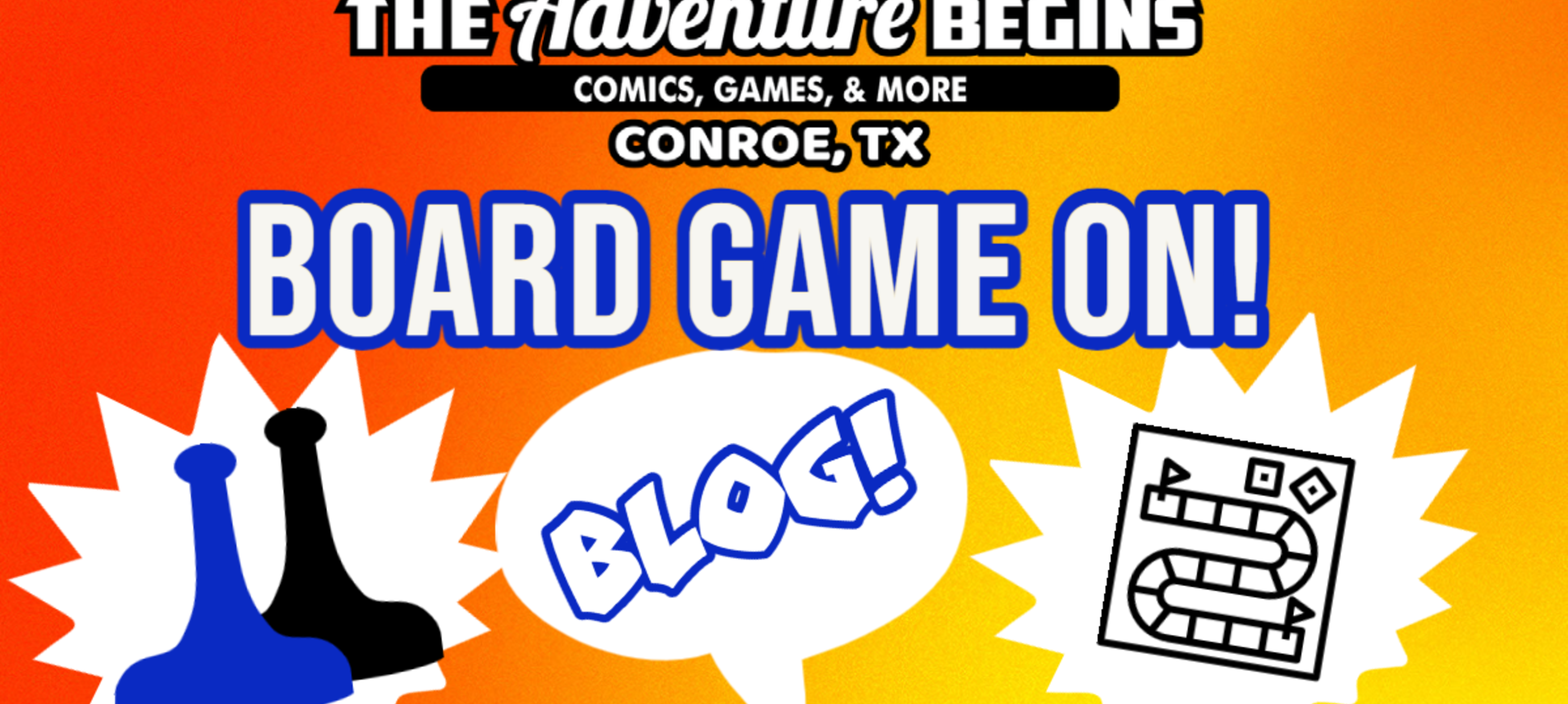 Welcome to the Adventure Begins Board Game Blog. I am your host, Samantha. Does anyone remember the game Candy Land? The board game, Candy Land was invented to cheer up children living in polio wards. Polio paralyzed many of its victims and the game offered the illusion of movement, allowing the sick children to lose themselves in the sweet imaginative world of the game
We have a couple of games for you this week. Some of them I haven't even heard of, but after doing research…I need them in my life. 
Our first board game this week is Cosmic Frog.Cosmic Frog is a game of collection, combat, and theft on a planetary scale. Each player controls a two-mile-tall, immortal, invulnerable frog-like creature that exists solely to gather terrain from the Shards of Aeth, the fragments of a long-ago shattered world. The First Ones seek to use the lands from the Shards to reconstruct the world of Aeth, and your frogs are their terrain harvesters.
At the start of the game, your frogs descend from the Aether, the cosmic sea between the worlds, onto a terrain-rich Shard of Aeth. Once on the Shard, you harvest land and store it in your massive gullet. When your gullet is sufficiently full, you leap into the Aether and disgorge your gullet contents into your inter-dimensional vault for permanent storage, then return to the Shard to collect more land. Although your frogs' collective mission is to gather as much land as possible for the First Ones, your private goal is to prove yourself to be the greatest of their harvesters by delivering to them the most valuable vault. To do this, you have to fill your vault strategically in a manner that both maximizes linear sets of identical lands and maximizes the diversity of lands in your vault at the end of the game.
Throughout the game, you're free to keep to yourself and focus on harvesting at your own pace...or you may attack other frogs and try to take lands directly from their gullets. You may even raid another frog's vault and steal the lands they have gathered if they have been knocked into the dreaded Outer Dimensions. As you are all immortal and invulnerable, no frog is ever wounded or killed — just irritated and inconvenienced.
But don't ever get too comfortable with your carefully crafted plans as the Aether is a chaotic and unstable place. Waves of Aether Flux will prompt you to mutate, and you may have to change your strategy in accordance with your new powers. And Splinters of Aeth, tiny slivers of the old world that swirl madly about in the Aether, will periodically fall from their orbit and crash into the Shard, destroying large areas of terrain and blasting apart the very Shard itself!
The game ends when the Shard is stripped of all harvestable land or when a Splinter shatters it. When the game ends, the player with the highest valued vault wins, and the frogs move to the next Shard to gather more land for the First Ones...
Another game for you this week is Tokyo Sidekick.Tokyo Sidekick is a cooperative game for 2-4 players that draws inspiration from superhero comics and Japanese pop culture. Each player controls a hero and sidekick, complete with their own unique backstories and special abilities. Together, you must save Tokyo by fighting increasingly powerful villains as crime spreads across the city. As you play, you'll unlock new items and stronger abilities while leveling up your characters. But if crime reaches dangerous levels, you take too much damage, or you can't defeat the final boss, Tokyo will be plunged into chaos.
Can you defeat your adversaries in time to save the city?
Our third and last board game of the week is Familiar Tales.Familiar Tales is a co-operative, deck-building, fantasy adventure for 1-4 players. It's an exciting narrative game in which players take on the roles of a wizard's familiars, entrusted with saving and raising a displaced princess. They must keep her safe from the evil forces that would see her dead, but when it comes to children, it is not enough to merely survive! The familiars know that every choice they make will affect the young one in their care. If they are victorious and the throne is reclaimed, what kind of woman will sit upon it?
Players will explore a massive world through the pages of a fantastical story book filled with branching paths and memorable characters. Fight off enemies, and explore the many nooks and crannies of an enchanted world. Experience a professionally narrated, fully scored, decade-spanning fantasy epic. Easily downloadable for both Mac and Windows, this browser-based app is required to play Familiar Tales. Think of it as an automated game master and storyteller! The app also features a digital, searchable rulebook.
An innovative card play system allows players to level up their familiars by building and customizing their skill decks. Players will use their skill cards to perform all manner of exciting actions throughout their campaign.
If you are a lady or a conforming gender we have a LADIES GAME NIGHT! On the third Wednesday of every month, Austin and a great group of ladies get together and play and learn some amazing games. 
Don't forget we do offer board game night every Thursday from 6-close. You should come out and test board games to your heart's desire!! Don't forget to check in next week and see what events we have going on in May!! 
Visit our store HERE!
Our online storeHERE!
Like us on FB HERE!
Like The Adventure Stadium on FB HERE!
The Adventure Begins | 525 Woodland Square Blvd. #130, Conroe, TX 77384 | 936-273-3223
Tags: cards, comics, sports, games, store, more, adventure, begins