Login
Log in if you have an account
Dont have an account? Register
Comics Comics and more Comics! Grand Adventure Blog 8/29/22
29 Aug 2022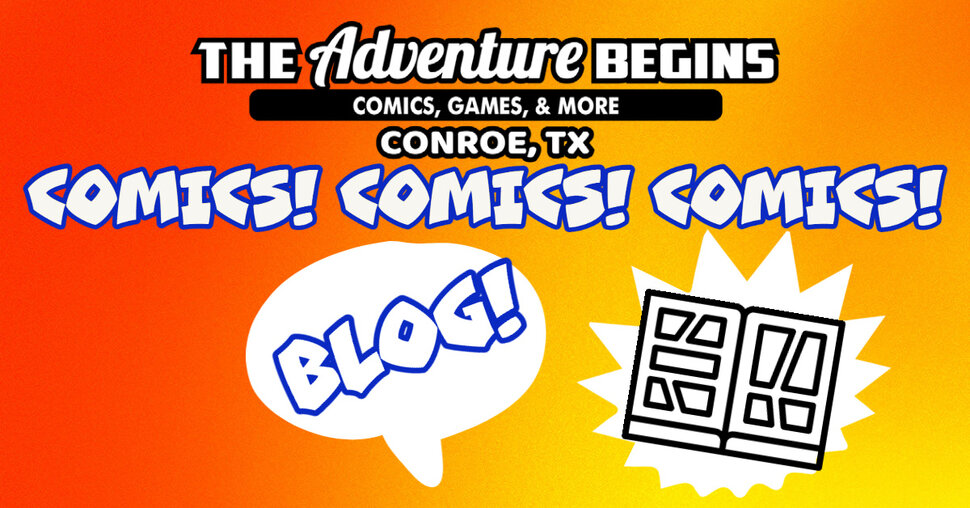 Welcome to the Grand Adventure Blog! I am your host, Samantha. This week we are going to explore some crazy comics and manga!! So be on the lookout for some new reading material!! 
Fun fact of the day: Did you know that Elvis Presley loved reading comic books as a boy? His favorite superhero was Captain Marvel Jr. It is reputed that he got the original inspiration for his jet black hair and middle forehead curl from Captain Marvel Jr.
COMIC LOTTERY!! 
We have a LOT of comics coming to you this week for the lottery!! Be sure to look at the names and labels as some are the same comic but different variants!! 
AMAZING SPIDER-MAN #8 GLEASON VARIANT (1:25)

BATMAN WHITE KNIGHT PRESENTS RED HOOD #2 (of 2) CVR C INC SIMONE DI MEO Var (MR) (1:25)

 DC MECH #2 (OF6) CVR C INC RICARDO LOPEZ ORTIZ CARD STOCK VAR (1:25)

END AFTER END #1 CVR D INC MING DOYLE VAR (1:10)

LADY HEL #1 CVR G 10 COPY INCV MAINE B&W (1:10)

LADY HEL #1 CVR R FOC BONUS PARRILLO ULTRAVIOLET (1:10)

LADY HEL #1 CVR H 20 COPY INCV PARRILLO TINT (1:15)

LADY HEL #1 CVR X 10 COPY INCV PARRILLO UV VIRGIN (1:10)

LADY HEL #1 CVR Y 10 COPY FOC INCV PARRILLO RED (1:10)

LADY HEL #1 CVR Z 10 COPY FOC INCV PARRILLO REG VIRGIN (1:10)

MADBALLS VS GARBAGE PAIL KIDS #2 CVR D 10 COPY INCV CROSBY B (1:10)
Comics this week are so amazing! I am so excited to share these with you!! Without further ado! 
I give to you House of Slaughter #8. The SCARLET arc of House of Slaughter continues as Edwin's search for a legendary monster goes horribly amiss. Adrift on Lake Michigan, can Edwin survive with only torn pages of his journal as makeshift S.O.S. notes? And what memories of his past cases will surface as he clings to life?
Next is a comic The Sandman Universe: Nightmare Country #5. When Madison Flynn first crossed paths with the Corinthian and saw his true nature, she reacted with astonishment and wonder, not fear. Across all his lifetimes, she was the only living thing to ever see him that way. And now she will learn what a terrible mistake that was. 
The last comic this week is Frank Frazetta's Death Dealer #4. More mysteries of Death Dealer's past are revealed as he learns his place in an upcoming war that threatens to destroy the world. But the cursed warrior is more concerned about saving the woman and child that restored a sliver of his humanity. 
MANGA CORNER!! 
Welcome to the manga corner where we talk about all things manga!! This week we have two mangas but they are going to blow your mind!
The first manga up is Look Back. The overly confident Fujino and the shut-in Kyomoto couldn't be more different, but a love of drawing manga brings these two small-town girls together. A poignant story of growing up and moving forward that only Tatsuki Fujimoto, the creator of Chainsaw Man, could have crafted. 
The next manga is Crazy Food Truck vol 2. Gordon, a middle-aged cook, and Arisa, his wild-woman companion, are still freewheeling their way through the desert on their food truck journey. Fueled by good grub, it's a sauna for the soul. Meanwhile, Gordon's former subordinate Kyle finds himself a new companion of his own—Arisa's younger sister Myna! It's time to put the pedal to the metal on this crazy food truck road trip!
Did you know we also do COMIC GRADING?? Come and see Macayla on the first Friday of the month with your favorite, or just a great comic you want to get graded. We have had some amazing entries and even better grades. All comic book grading is done by CBCS and EGS. 
Chaz and Dina have partnered with Comic Books for Kids/ Comic Books for Troops (https://www.comicbooksforkids.org/) to donate comics to sick kids and our honorable troops. 
Be on the lookout for the next blog. We are having some fun and exciting things going on in the month of August and THIS week is SEPTEMBER. Don't forget to come in if you have any questions about anything on the blog or if you just want to come by and say hello. Until next time!
Visit our store HERE!
Our online store HERE!
Like us on FB HERE!
Like The Adventure Stadium on FB HERE!
The Adventure Begins | 525 Woodland Square Blvd. #130, Conroe, TX 77384 | 936-273-3223
Tags: cards, comics, sports, games, store, more, adventure, begins