Login
Log in if you have an account
Dont have an account? Register
Comics Comics Comics | #BAD IDEA COMICS
09 Dec 2020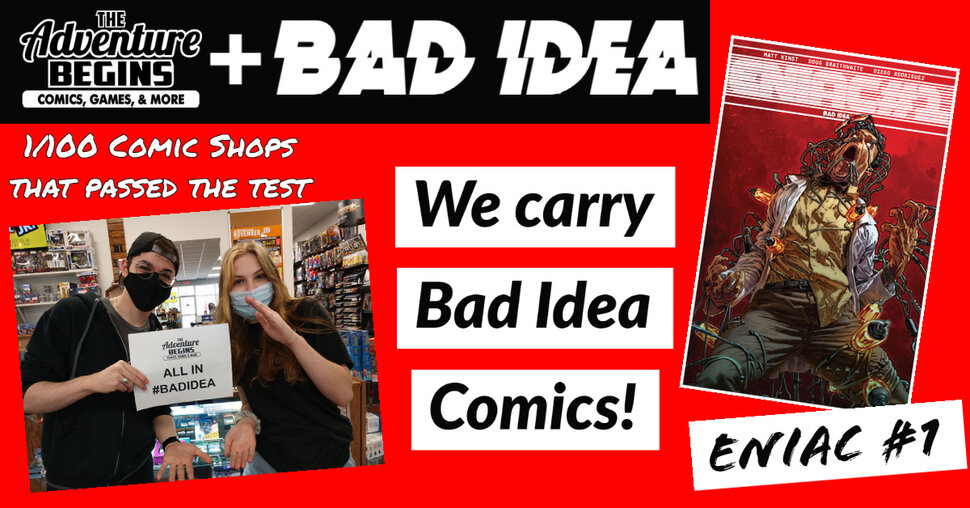 BAD IDEA Comics!
Who is #BadIdea?  A new experimental comic book company starting to debut their books in select comic book shops.  Bad Idea comics will feature storytelling from some of the leading talents and be pristinely designed and packaged.  Each comic will include special features like oversized pages or page numbers in excess of the standard twenty-two.  Issues might include hidden features or other secret bonuses not revealed to the public!   The great part about all this is that each comic will remain at the standard price of $3.99.  
Bad Idea's goal is to ensure that each comic that shows up at your local shop is a big deal! Every month head to your comic shop to pick up the latest release.  And guess what local comic book shop will be carrying Bad Idea? The Adventure Begins!  
The very first released title will be ENIAC #1 – a new series from New York Times best-selling writer Matt Kindt (Mind MGMT, Folklords) and acclaimed artist Doug Braithwaite (Justice).  ENIAC #1 can be ordered through January 21st.  To guarantee your copy, subscribe through our comic subscription service HERE.  We will carry a limited number of copies in-store.
Bad Idea is already hard at work on many more comics lined up to be released in 2021.  A few titles include Tankers #1(of 3), Whalesville #1, The Lot #1 (of 4), and Slay Bells #1, along with one-shots and more to be announced!  So stay tuned to #BadIdea Comics and The Adventure Begins! For more information and updates.