Login
Log in if you have an account
Dont have an account? Register
Comics Comics Comics | Feature Titles for April 25th!
25 Apr 2022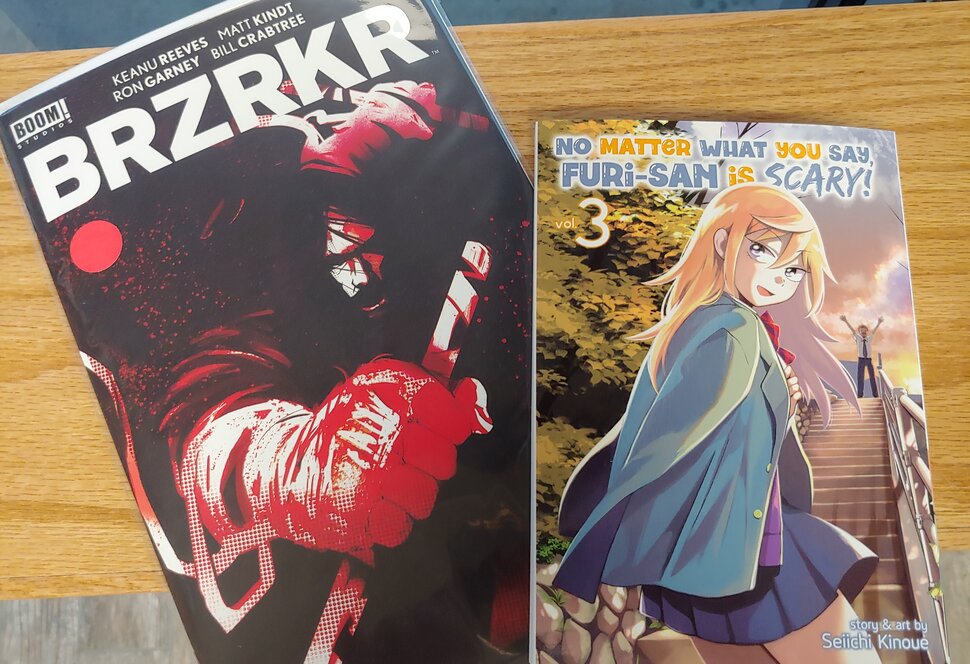 Welcome to the Grand Adventure Blog. I am your host, Samantha. Did you know that Batman actually pays Superman's salary. Bruce Wayne, alias "Batman" is a part owner of The Daily Planet where Clark Kent, alias "Superman," works. Clark Kent, aka "Superman," is a reporter who works for The Daily Planet, a fictional broadsheet newspaper that appeared in DC Comics. First owned by the bald villain Lex Luthor, the ownership of the newspaper was then transferred to the editor-in-chief, Perry White after Luthor sold it to him for one dollar thanks to a bold endeavor by Lois Lane. Then, the ownership fell into the hands of Bruce Wayne and in Batman: Hush, it was named as a subsidiary of Wayne Entertainment, a part of Wayne Enterprises. Wayne continues to own The Daily Planet. We all know who Bruce Wayne also is—Batman. (10 Interesting Facts About The Most Famous Comic Book Characters (unbelievable-facts.com))
This week's comics are going to blow your mind! I can't believe everything that is coming out this week. You have to see these though!! Come in the store and don't forget we offer a Comic Subscription! Have a favorite comic but can never find it? Sign up for a subscription and make sure to never miss a comic again. 
Our first comic this week is BOOM! Studios BRZRKR #8. The countdown nears its end, with more and more flashbacks as the clock approaches zero. Each reaching further and further back in time. As his mental journey reaches it culmination, we'll finally learn the secrets of B's birth more than 80,000 years ago. Witness the origins of the timeless warrior, and revlive his memories as he finally remembers the identity of…
We have another great loveable villain for you, Harley Quinn #14! I'm innocent, I tell ya! I might currently be stuck in Blackgate Penitentiary for multiple homicides thanks to a growing body of evidence that points right to me, Harley Quinn, as a murderer…but for once it was not Harley Quinn in the alley with the baseball bat. Someone's obviously tryin' to frame me. And I gotta figure out who and why if I wanna clear my name before I end up spending the rest of my day behind bars with a buncha ladies who really don't seem thrilled that I'm here. Not to mention I look terrible in orange…
Manga, manga, mangas everywhere!! We are running out of room for our Mangas. That just means we have some awesome new ones to show off!! Come in and see our entire MANGA SECTION!!!!! 
Our manga this week is No Matter What You Say Furi-San is Scary. An ordinary high school boy is terrified of his scary-looking (but secretly sweet!) classmate in this romantic comedy of crushes and misunderstandings.
Furi Youko definitely looks like a delinquent: she's got a tough-girl image that wouldn't be out of place in a gang. When Taira Namito finds himself sitting next to her in his high school class, he's immediately afraid of her. But as it turns out, Furi's rough-and-tumble exterior hides a wholesome, totally cute person underneath–and she's got the hots for Taira. (Not that he has any idea, of course.) One misunderstanding leads to another in this romantic comedy about a clueless dude and the adorable, slightly terrifying affections of the tough girl by his side!
Our Graphic novels are just as busy! We have new one coming in all the time!! Look at these new ones. Graphic novels are also a great way to get younglings to get interested as well. Bring in the little ones and see what they like, we have a wide variety of titles and series!
 Did you know we also do COMIC GRADING?? We do!! Come and see Macayla on the first Friday of the month with your favorite, or just a great comic you want to get graded. We have had some amazing entries and even better grades. All grading is done by CBCS and EGS.
Chaz and Dina are collecting comics and donations for comics for Kids and Troops. They have partnered with Comic Books for Kids/ Comic Books for Troops, to donate comics for kids who are sick and to send out to our troops all over the world. Don't have comics and don't want to purchase any? That is fine, there is a donation box where you can donate. All donations are welcome. 
On this weeks Comic Lottery is . If you don't grab it I will. Don't forget to check out the Comic Lottery show on Tuesday's at 5:30 pm, on Twitch at the THERNRNERD. 
Be on the lookout for the next blog. We are having some fun and exciting things going on in the months of April and May. Don't forget to come in if you have any questions about anything on the blog or if you just want to come by and say hello. Until next time!
Like The Adventure Stadium on FB
The Adventure Begins | 525 Woodland Square Blvd. #130, Conroe, TX 77384 | 936-273-3223