Login
Log in if you have an account
Dont have an account? Register
Comics Comics Comics | Grand Adventure 5.16
16 May 2022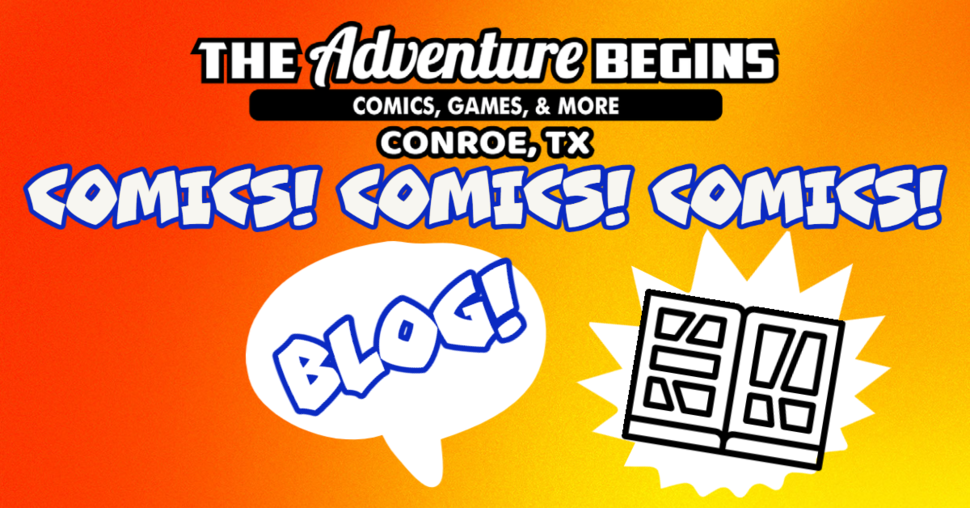 Welcome to the Grand Adventure Blog. I am your host, Samantha. So for those of you that don't know me, I am a HUGE fan of the Indiana Jones series. This little fun fact blew my mind away. The famous rock opening scene from Raiders of the Lost Ark was lifted from a 1954 Scrooge McDuck comic book.
Our comic book lottery for next week is a lot!! We have a Pop, and a few comics. 
Pop:
 Dr. Strange

Chase

Limited Edition
Comics:
2 Transformers Last Bot Standing

Eight Billion Genies 1:10
I have three comics you need to look into this week! They are some nitty gritty and girl powerful comics. I am so excited to bring theses to you!! Don't forget to watch on Tuesdays on the facebook page. It's on at 5:30 pm, be there or be square. 
Our first comic this week Silk #5. TIME'S UP! Silk has tried and failed to stop an evil witch from terrorizing New York. Now the witch is putting her grand plan into motion. What IS the witch's plan? And what'll happen to the the city – and the world– if Silk is too late?!
Our second comic this week is Alice Ever After #2. Alice might have opened the door to Wonderland, but the asylum is its own realm of darkness and danger. 
Mistress Hulda resembles an all-too-familiar queen, and Dr. Madsen is eager to try an experimental treatment, probing into a past that Alice wants to escape…and one her father will do anything to keep hidden. 
Will an inmate with an intriguing smile prove to be a much needed friend, or will Alice's fate be the same as the inmates in the common room, the ones with the vacant eyes?
The third comic I have for you this week is Bolero #5. Twenty years later. The fate of destruction is also the joy of rebirth. Beyond jealousy and desire, beyond hate and betrayal, the final choice. The end of the Multiverse. The end of BOLERO. "Will you be okay?"
Now on to our next greatest MANGA!!! This manga people are just ogling over. After doing all my research, I can't wait to pick this one up!
Our manga this week is Cat + Gamer. Riko, a twenty-nine-year-old office worker with an obsession for video games, finds her quiet life upended when she takes in a stray cat in this adorable manga series!
Her coworkers can't quite figure her out—she never talks about her personal life, she never works overtime, and she never joins them for happy hour. Is she antisocial? Nope, she's rushing home to play video games! One day, a stray cat is found in the office parking lot, and before Riko knows it, the cat has moved in with her! Having no experience with pets, Riko uses lessons drawn from video games to guide her in cat care, while her cute companion tries to understand her behavior through a cat's worldview.
Available for the first time in English! By Wataru Nadatani, this is the first volume in this cute, fun, and heart-warming story of a gamer learning to live with a cat!
Did you know we also do COMIC GRADING?? We do!! Come and see Macayla on the first Friday of the month with your favorite, or just a great comic you want to get graded. We have had some amazing entries and even better grades. All grading is done by CBCS and EGS. 
Chaz and Dina are collecting comics and donations for comics for Kids and Troops. They have partnered with Comic Books for Kids/ Comic Books for Troops (https://www.comicbooksforkids.org/), to donate comics for kids who are sick and to send out to our troops all over the world. Don't have comics and don't want to purchase any? That is fine, there is a donation box where you can donate. All donations are welcome. 
Be on the lookout for the next blog. We are having some fun and exciting things going on in the month of May. Don't forget to come in if you have any questions about anything on the blog or if you just want to come by and say hello. Until next time!
Visit our store HERE!
Our online store HERE!
Like us on FB HERE!
Like The Adventure Stadium on FB HERE!
The Adventure Begins | 525 Woodland Square Blvd. #130, Conroe, TX 77384 | 936-273-3223
Tags: cards, comics, sports, games, store, more, adventure, begins