Login
Log in if you have an account
Dont have an account? Register
Comics Comics Comics | Grand Adventure 5.30
30 May 2022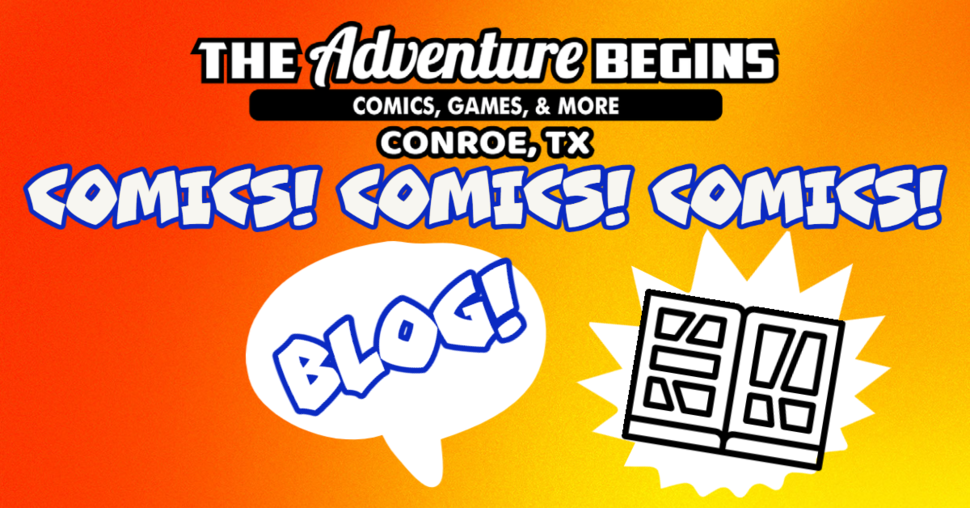 Welcome to the Grand Adventure Blog. I am your host, Samantha. I hope you all have had a fantastic weekend. As most know this weekend is one of memorial for those that served and lost their lives to protect us and those around us. 
Don't forget to watch on Tuesdays at 5:30pm for the Comic Lottery. You can find it on our Facebook page as well as on Twitch at THERNRNERD! 
This week's comics for the lottery are as follows:
Something is Killing the Children #23 (1:10)

Amazing Spider-Man #2 (1:25)

Batman Fortress (1:25)

Fox and Hare (1:5)

Legion of X (1:10)

MoonKnight #11 (1:25)
I have some creepy but great comics to look forward to this weekend. Theme this week is a bit adult rated, but safe for anyone over eighteen. 
First comic this week is The Nice House On The Lake #9. All Arturo wants is for his partner, Sam, to be happy—so why isn't he? What is scratching at the edge of Sam's memories that keeps him restless and unsatisfied? As a journalist, nothing can keep Sam from the truth–n matter what that truth could cost the man he loves…
Our second comic this week is Ghost Rider #3. Johnny Blaze needs to know the truth behind what happened to him in Hayden Falls. But not only does he have an FBI agent tailing him, there are supernatural forces at work that want to see him off the road again., including a nightmarish trucker who stains the road with burned rubber and roadkill.
The third and last comic this week is Little Monsters #4. The young vampires stumble upon a human girl and try to reunite her with her father. Despite their best intentions, the temptation of drinking human blood might prove too strong when they enter a survivors' encampment.  
This week we only have one manga again, but its a great manga. I would highly recommend it and think everyone should read it. 
Colorless is a stylish noir-punk thriller set in a world stripped of its color and humanity. This visually striking manga series is presented in two-tone printing that contrasts a gritty, monochromatic world with sudden electric splashes of neon color.
A cosmic disaster changed the Earth forever, stripping away every last drop of color from the world. Mankind also changed: the familiar human face is almost forgotten in a world now populated wholly by mutants. Against the backdrop of a moody urban landscape, a lone-wolf investigator named Avidia relies on both his wits and extraordinary gun to hunt down the world's last hidden scraps of color. He soon crosses paths with a very special girl–one who just might hold the key to bringing back what the world has lost.
Did you know we also do COMIC GRADING?? We do!! Come and see Macayla on the first Friday of the month with your favorite, or just a great comic you want to get graded. We have had some amazing entries and even better grades. All grading is done by CBCS and EGS. 
Chaz and Dina are collecting comics and donations for comics for Kids and Troops. They have partnered with Comic Books for Kids/ Comic Books for Troops (https://www.comicbooksforkids.org/), to donate comics for kids who are sick and to send out to our troops all over the world. Don't have comics and don't want to purchase any? That is fine, there is a donation box where you can donate. All donations are welcome. 
Don't forget, on Saturdays to look for the MAGIC WORD. Once you have it go to  RAW CREATIONS, give the the magic word and you can get a 16 oz Smoothie for $5.
Be on the lookout for the next blog. We are having some fun and exciting things going on in the month of June. Don't forget to come in if you have any questions about anything on the blog or if you just want to come by and say hello. Until next time!
Visit our store HERE!
Our online store HERE!
Like us on FB HERE!
Like The Adventure Stadium on FB HERE!
The Adventure Begins | 525 Woodland Square Blvd. #130, Conroe, TX 77384 | 936-273-3223
Tags: cards, comics, sports, games, store, more, adventure, begins