Login
Log in if you have an account
Dont have an account? Register
Comics Comics Comics | Grand Adventure 6.27
27 Jun 2022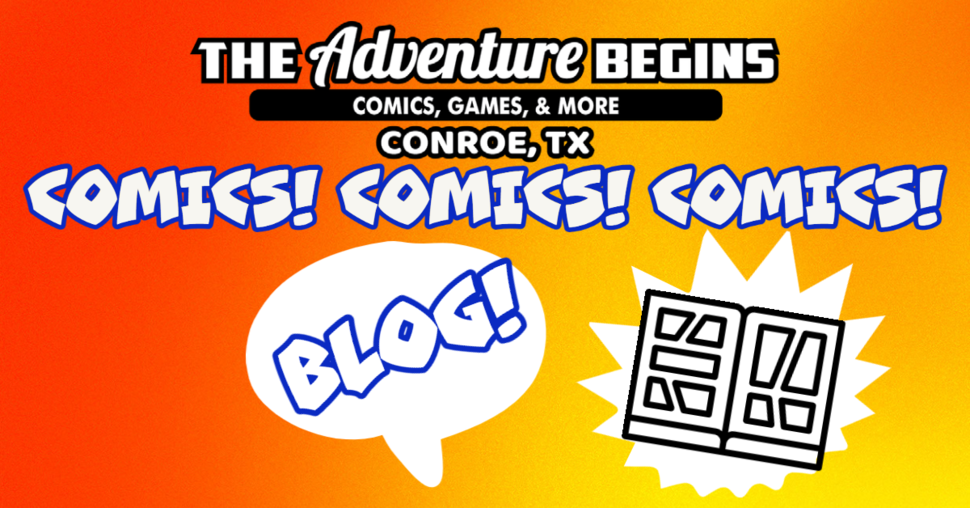 Welcome to the Grand Adventure Blog. I am your host, Samantha. 
Manga, Manga, Manga. Can we just start with Manga this week? I am playing a little bit of catch up since I have been out, so this week we will have 2 mangas to reveal!! Drum roll, please!!
Our first manga is Chainsaw Man vol. 11. Chainsaw Man has escaped Makima's attempts to control him so far, but she now reveals the full extent of her plans. Denji will need the help of his remaining friends if he is to have any chance of defeating Makima in their final confrontation!
Our second manga is Blue Lock vol. 1. After a disastrous defeat at the 2018 World Cup, Japan's team struggles to regroup. But what's missing? An absolute Ace Striker, who can guide them to the win. The Football Association is hell-bent on creating a striker who hungers for goals and thirsts for victory, and who can be the decisive instrument in turning around a losing match...and to do so, they've gathered 300 of Japan's best and brightest youth players. Who will emerge to lead the team...and will they be able to out-muscle and out-ego everyone who stands in their way?
What is going on in the world of mangas? All I can say is, WOW!! I am so excited for these mangas and I can't wait to dive into these worlds. Next week we will also have 2 mangas for you then it will go back to 1. I know I know, its sad but some of these mangas need their own intro!
Now back to the world of comics! We have some amazing comics for you this week. I have two this week and I am excited for them!!!! Like beyond excited!!
First up we have The Department of Truth #19. One of the Department of Truth's greatest rivals lay dead in America's capital, and all signs point to Black Hat as the culprit. To uncover the truth, Cole Turner must decipher the hidden history of the Ministry of Lies. 
Second we have Monstress #41. Will Kippa be able to stop Tuya and the Dusk Court? Will Miaka finally awaken from her poisoned sleep and if she does, will it be with her own mind intact?? I mean come on, who doesn't want to know if Miaka will wake up!! OBSESSED!!
I know I only said two, but one more never hurt right!! Our third and final comic is What's the Furthest Place From Here? #7. THIS IS HOW IT ALL BEGAN! A look back at the night known as "Cityfall" finds a father on the run with his children but the road can only take you so ar. And as one society collapses, another begins to form. But what roll do the Strangers play in both?
DON'T FORGET!! Tuesday's at 5:30 pm on youtube, twitch and facebook we are having the COMIC LOTTERY with Chaz, Dina and Jason!! This weeks comics up for grabs still are:
Amazing Spiderman #4 (1:25)

Something is Killing the Children #24 (1:10)
Did you know we also do COMIC GRADING?? We do!! Come and see Macayla on the first Friday of the month with your favorite, or just a great comic you want to get graded. We have had some amazing entries and even better grades. All grading is done by CBCS and EGS. 
Chaz and Dina are collecting comics and donations for comics for Kids and Troops. They have partnered with Comic Books for Kids/ Comic Books for Troops (https://www.comicbooksforkids.org/), to donate comics for kids who are sick and to send out to our troops all over the world. Don't have comics and don't want to purchase any? That is fine, there is a donation box where you can donate. All donations are welcome. 
Be on the lookout for the next blog. We are having some fun and exciting things going on in the month of June. Don't forget to come in if you have any questions about anything on the blog or if you just want to come by and say hello. Until next time!
Visit our store HERE!
Our online store HERE!
Like us on FB HERE!
Like The Adventure Stadium on FB HERE!
The Adventure Begins | 525 Woodland Square Blvd. #130, Conroe, TX 77384 | 936-273-3223
Tags: cards, comics, sports, games, store, more, adventure, begins