Login
Log in if you have an account
Dont have an account? Register
Comics Comics Comics | Grand Adventure 7.11
11 Jul 2022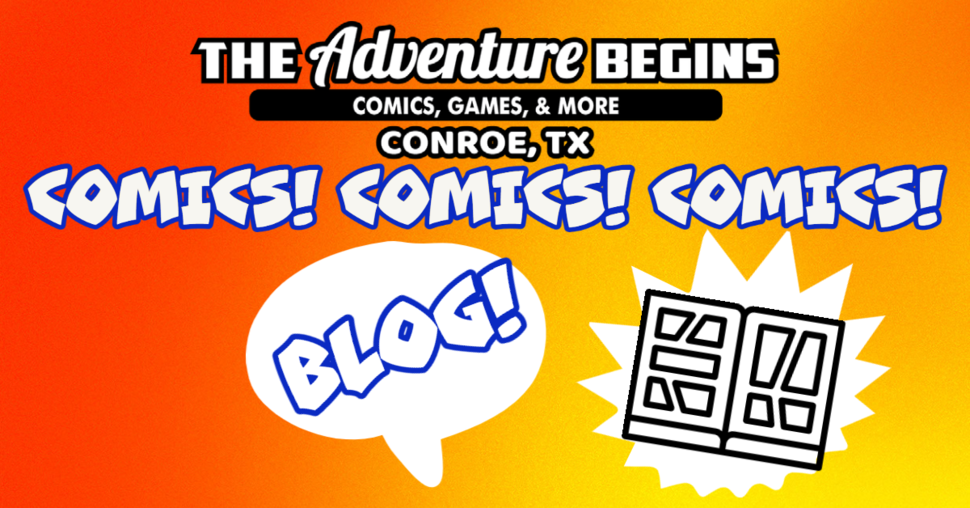 Welcome to the Grand Adventure Blog. I am your host Samantha. 
Comics, comics, and comics. Oh My! We have had a lot of comics coming to you in the past few months and I truly hope they are helping you in your search for a perfect new or old series to read and enjoy. This week we have some ones I am sure everyone is excited for. Don't forget our COMIC LOTTERY, every Tuesday at 5:30 pm. 
This weeks Comic Lottery comics are:
Batman #125 CVR G INC 1:25 Jorge Jimenez Wraparound Card Stock Var

Dark Crisis #2 (of 7) CVR D INC 1:25 Mario Foccillo Card Stock Var

Twig #3 (of 5) CVR D Copy INCV Strahm Virgin (1:10)
We have some comics to talk about now!! Are you excited to see what is coming to the store? Our first comic is Undiscovered Country #19. Our brave explorers have gotten too close to the truth behind America's transformation into the Undiscovered Country. They've been scattered to different corners of the altered nation, where they will have to fight their way back to each other…and their ultimate destiny. 
Our second comic is Eight Billion Genies #3. We explore the first eight days after eight billion genies appeared on earth, offering one wish each to every man, woman and child. The wish-proof Lampwick Tavern has provided a safe haven for our eight heroes so far, but now they must undertake a crucial mission into a world utterly remade by frivolous and bizarre wishes. With a special appearance from history's most famous drunkards!
Our last comic this week is new to me, but I am excited for it: Frank Frazetta's Death Dealer #3. The battle has been won, but at what cost? More mysteries of Death Dealer's past are revealed as he learns his place in an upcoming war that threatens to destroy the world. But the curse warrior is more concerned about saving the woman and child that restored a sliver of his humanity.
Welcome to the Manga Corner! We talk about and discuss all kinds of mangas!! If you have any you would like to learn about come into the store and see what we have or call and ask! We are so excited to grow our manga collection!! 
This week in Manga Corner we have Nights with a Cat Vol. 1. When Fuuta comes home tired at night, all he wants to do is spend time with his sister's cat, Kyuruga. So many of the mysterious habits and mannerisms of house cats—from the surprising array of shapes Kyuruga likes to twist into, to the bizarre challenge of getting a good photo of him, to his lightning-fast mood changes—are carefully reproduced in this relaxed and cute comedy about living with an adorable furball!
Did you know we also do COMIC GRADING?? We do!! Come and see Macayla on the first Friday of the month with your favorite, or just a great comic you want to get graded. We have had some amazing entries and even better grades. All grading is done by CBCS and EGS. 
Chaz and Dina are collecting comics and donations for comics for Kids and Troops. They have partnered with Comic Books for Kids/ Comic Books for Troops (https://www.comicbooksforkids.org/), to donate comics for kids who are sick and to send out to our troops all over the world. Don't have comics and don't want to purchase any? That is fine, there is a donation box where you can donate. All donations are welcome. 
Be on the lookout for the next blog. We are having some fun and exciting things going on in the month of June. Don't forget to come in if you have any questions about anything on the blog or if you just want to come by and say hello. Until next time!
Visit our store HERE!
Our online store HERE!
Like us on FB HERE!
Like The Adventure Stadium on FB HERE!
The Adventure Begins | 525 Woodland Square Blvd. #130, Conroe, TX 77384 | 936-273-3223
Tags: cards, comics, sports, games, store, more, adventure, begins