Login
Log in if you have an account
Dont have an account? Register
Community blog
16 May 2023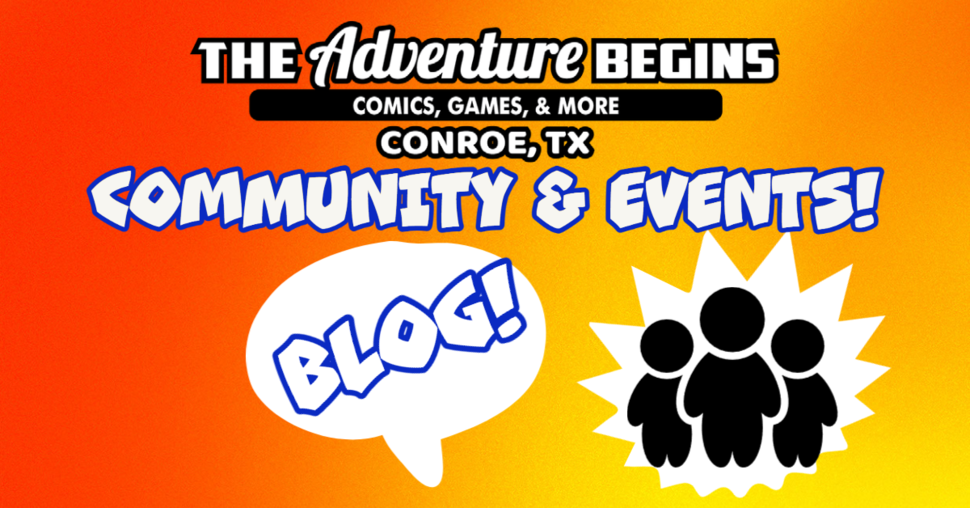 Welcome to the Adventure Community Blog. I am your host, Samantha. Happy May everyone!! I hope this month finds you in cool weather and even cooler games! This week we have some crazy events for you and some recurring events. First things first, let's get these events started! 
We are hosting some amazing events. Did you know its college baeball season? You heard right. The Adventure Stadium is hosting a College World Series of Baseball Event. From May 29th through June 26th, we will be having all kinds of fun events. There is a punch card system in play with some pretty amazing prizes. There will be breaks, watch parties and many many more! Come up to the Stadium and learn all about it.   
 Did you know on May 4th Weiss/Schwarz Date A Live Vol 2 Title Cup is happening at the store? It is a $10 entry and starts at 7pm. 
On the 19th of May we are having a MTG March of the Machines Store Championship Booster Draft. It is free to attend. It is also an all day event, so clear your calendars!
We are also hosting two new events on the 13th of May. A bi-monthly X-Wing extended 2.5 Tournament. This has a $15 entry and is from 11:30 top 7:30. The second one is Battletech Salvage Box Highlander Draft. It has an entry fee of $25 and runs from 12-8. So come and get your battles on!
On the 12th of May, The Forge is hosting a workshop for the GLOWFORGE. There are only 5 spots so please sign up quickly. It is a $20 sign up fee. It is from 6pm to 8m. 
Don't forget to come see us at COMICPALOOZA. There will be a board game library all day long. Ticket prices may vary get yours soon. COMICPALOOZA is May 26-29. 
We do have some staples that recur every week! You have a community waiting for you. Come one and all to the crazy week-in and week-out events. 
Sunday:
Adventure League JR. ( 1st & 3rd Sundays, please pre-register online) 4 pm -8 pm

Adventure League ( 2nd & 4th Sundays, please pre-register online) 4 pm - 8 pm

Magic the Gathering: Casual Meet up 1 pm -4 pm

Yu-Gi-Oh!: Tournaments every week 6 pm- 10 pm

Skirmish Sundays 4:30 pm start time 
Monday:
Miniature Mondays: Every Week 4 pm- 9 pm

Art Meetup: Every Week 4 pm- 8 pm

Battletech Casual Meet up and play 5pm-10pm

One Piece Casual Meetup and Play $10 entry 6:30 start 
Tuesday:
Digimon Card Game: Tournaments and casual play 6 pm-10 pm Register Online

Blood Bowl Casual Meetup 6pm-10pm
Wednesday:
Yu-Gh-Io!: Every week 6 pm - 10 pm

Ladies Night: Casual Meetup (Every 3rd week) 5 pm
Thursday:
Bring Your Own Board Game Night: Every Week (6 pm-9 pm)

Weiss Schwarz: Every week (6 pm-10 pm)

Flames of War/ Team Yankee: Casual Meetup Every Week (6 pm-10 pm)

DragonBall Super Card Game: Every week REGISTER ONLINE (7 pm-10 pm)
Friday:
Atomic Mass Games: Crisis Protocol, Star Wars X-Wing, Star Wars Legion: Every week (5 pm)

Magic the Gathering: LIMITED TOURNAMENT- register & check dates online (6 pm-10 pm)
Saturday:
Casual War Gaming ( Warhammer, Legion, Battletech, & More)

Pokemon: Casual Meetup (12 pm-4 pm)

Pokemon: Build and Battle Tournaments- Every 3rd Saturday (12 pm-4 pm)

Magic the Gathering: Commanders- every week (5 pm start)
Some amazing things are going on, so don't forget to check our website for all details. Check back next week for some more amazing events! Until next week! 
Visit our store HERE!
Our online store HERE!
Like us on FB HERE!
Like The Adventure Stadium on FB HERE!
The Adventure Begins | 525 Woodland Square Blvd. #130, Conroe, TX 77384 | 936-273-3223
Tags: cards, comics, sports, games, store, more, adventure, begins