Login
Log in if you have an account
Dont have an account? Register
Community | Grand Events 5.16
17 May 2022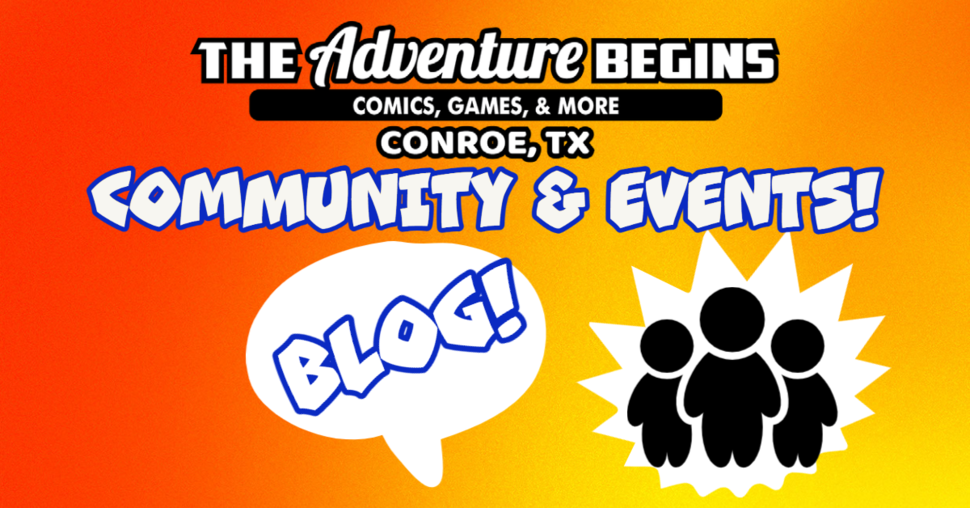 Welcome to the Adventure Community Blog. I am your host, Samantha. We all know that historical and military facts and events are one of the tops people instantly remember. But there are little lesser known facts due to them as well. Like we all know that the United States had a big part in World War I, but did you know that there was a single telegram that was responsible for the U.S. entering it? You didn't? Me either!!!
This week we have some crazy events for you as well as some recurring events. First things first, lets get these events started!
On Monday May 16th the monthly miniature paint contest opens. It is $10 an entry. Come in and don't forget to go vote as well!! Some of these miniatures are FANTABULOUS!! This contest entries closes Friday May 20th.
Tuesday May 17th, there is a Graphic Novel Book Club meeting. It is for ages 16 and up. It is free and it's from 6pm-9pm. Come and introduce yourself to a brand new community!
May 20th we will be hosting a Digimon TCG New Awakening pre-release tournament. It is a $25 entry fee. It will be from 5:30 pm to 8pm. Be sure to register for your spot online.
May 21st we are hosting a Pokémon unsanctioned Astral Radiance Pre-release tournament. It is a $30 entry. It will be form 12pm-4pm. Please register online to secure your spot.
We do have some staples that reoccur every week! You have a community waiting for you. Come one and all to the crazy week in and week out events.
Sunday:
Adventure League JR. ( 1st & 3rd Sundays, please pre register online) 4pm -8pm
Adventure League ( 2nd & 4th Sundays, please pre register online) 4pm - 8pm
Magic the Gathering: Casual Meet up 1pm -4pm
Super Smash Bros: ( 1st Sunday of the month) 6pm - 10pm
Yu-Gi-Oh!: Tournaments every week 6pm- 10pm
Monday:
Miniature Mondays: Every Week 4pm- 9pm
Art Meetup: Every Week 4pm- 8pm
Tuesday:
Digimon Card Game: Tournaments and casual play 6pm-10pm Register Onling
Wednesday:
Yu-Gi-Oh!: Every week 6pm - 10pm
Ladies Night: Casual Meetup (Every 3rd week) 5pm
Thursday:
Bring Your Own Board Game Night: Every Week (6pm-9pm)
Weiss Schwarz: Every week (6pm-10pm)
Flames of War/ Team Yankee: Casual Meetup Every Week (6pm-10pm)
DragonBall Super Card Game: Every week REGISTER ONLINE (7pm-10pm)
Friday:
Atomic Mass Games: Crisis Protocol, Star Wars X-Wing, Star Wars Legion: Every week (5pm)
Magic the Gathering: LIMITED TOURNAMENT- register & check dates online (6pm-10pm)
Saturday:
Warhammer 40k (11am- 8pm)
Warhammer Age of Sigmar (11am -8pm)
Battletech (11am- 8pm)
Star Wars: Legion (11 am- 8pm)
Pokémon: Casual Meetup (12pm-4pm)
Pokémon: Build and Battle Tournaments- Every 3rd Saturday (12pm-4pm)
Magic the Gathering: Commanders- every week (5pm start)
Its some amazing things going on. Don't forget to check online at our website for any and all details. Check back next week for some more amazing events! Til, next week!
Visit our store HERE!
Our online store HERE!
Like us on FB HERE!
Like The Adventure Stadium on FB HERE!
The Adventure Begins | 525 Woodland Square Blvd. #130, Conroe, TX 77384 | 936-273-3223
Tags: cards, comics, sports, games, store, more, adventure, begins