Login
Log in if you have an account
Dont have an account? Register
Looking for Lorcana?
16 Aug 2023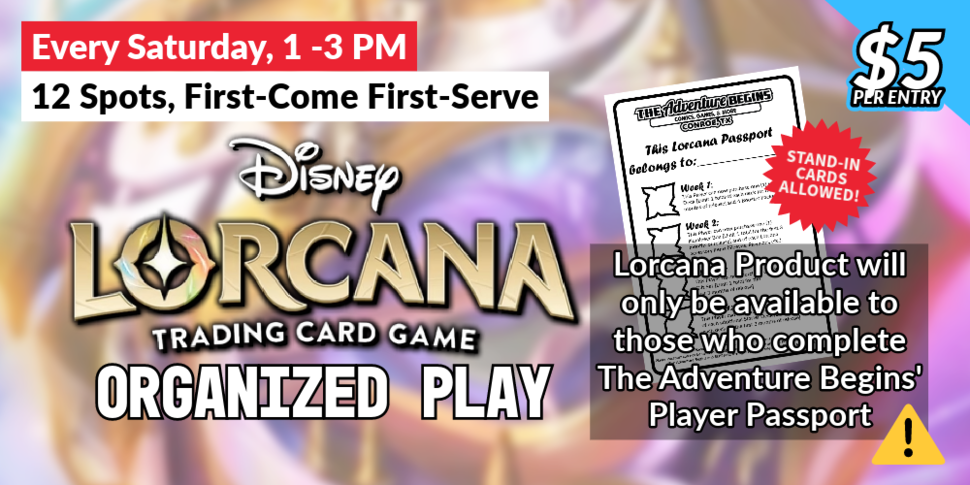 Greetings, Illumineers!
Today marks the official LGS release date of Lorcana, an exciting new Disney themed Trading Card Game.
In order to ensure that product ends up in the hands of local players we're limiting Lorcana products to members that actively participate in our store's Lorcana Organized Play.
Community members must attend the Saturday Lorcana Organized Play events from 1-3 pm, obtain and complete a store passport in order to be eligible to purchase Lorcana Product. Spots will be limited.
To address a few common queries we've received this week:


Can I Initiate My Passport Even if I Miss the First Week?
Absolutely! The name of the week on the passport is simply an indicator of the duration of your participation.
Will Decks be Available for New Players to Play With?
Certainly! We've prepared Stand-In Card decks specifically for new players, ensuring a seamless entry into the game. Additionally, these decks will be on hand to support the entire 12-person event, if needed.
Why are We Implementing These Restrictions?
We've been allocated a substantial quantity of this product. In order to prevent scalpers from depleting our stock, we've decided to implement a Passport system. This approach ensures fairness and availability for genuine players. It's important to note that other stores are also adopting similar strategies for this release due to industry-wide circumstances.
Can I use a Stand-in Passport Card?
No, passport cards are per individual player only.
Will Lorcana be available for purchase online?
No, you will only be able to purchase Lorcana in store with proof of passport.
We extend our gratitude to all of you for your understanding and support. We're eagerly anticipating the Store Meetup tomorrow and looking forward to welcoming the first twelve attendees!
Best regards,