Login
Log in if you have an account
Dont have an account? Register
Sports Adventure 7.7.23
07 Jul 2023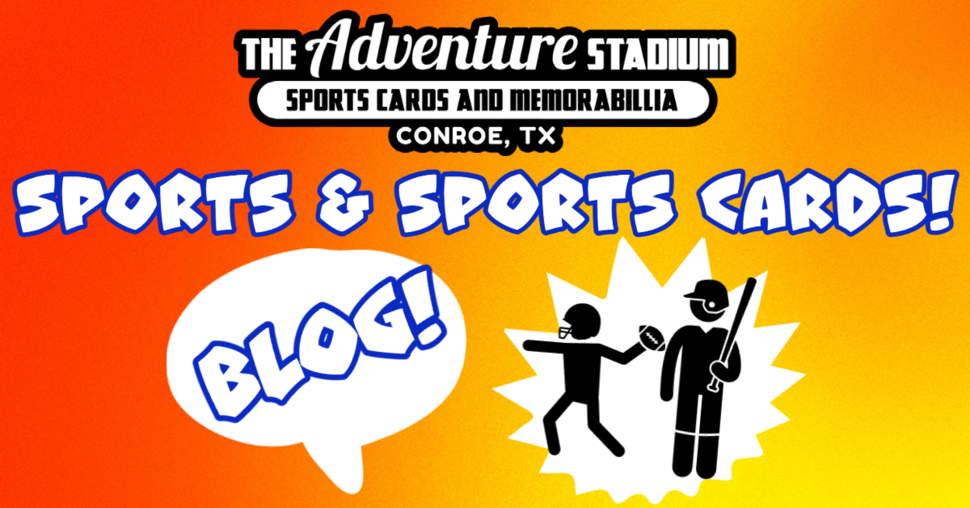 Welcome one and all to the Adventure Sports Blog. I am your host Samantha. We have a lot to get through today so bear with me as it will be a LOT of information. First and foremost we need a fun fact! 
Fun Fact of the Day: Ray Caldwell: Pitched Complete Game After Being Struck by Lightning.
In further proof that "they don't make them like they used to," Cleveland Indians pitcher Ray Caldwell recorded a complete game against the Philadelphia A's in 1919, after he was struck by lightning in the middle of the ninth inning.
Caldwell "shook it off" and got the final out for the win. (https://bleacherreport.com/articles/1459509-25-random-sports-facts-to-impress-your-friends-with)
Product For the Month!!!
Sports Card Release Calendar – July, 2023
7
2022-23 Panini Obsidian Basketball
2022 Panini Flawless Football
2022 Panini Chronicles Football
19
2023 Panini Select Baseball
2022-23 Panini Noir Basketball
20
26
TBA
2022 Topps Chrome Platinum Baseball
2022-23 Topps Chrome Overtime Elite Basketball
2022 Leaf Trinity Baseball
Sports Card Release Calendar – August, 2023
2
2022-23 Panini One and One Basketball
2022-23 Panini Obsidian Soccer
9
2022-23 Panini National Treasures Basketball
2022-23 SPx Hockey
16
18
2022-23 Panini Noir Basketball
Events for July & August
On the 3rd Sunday of EVERY MONTH, is Trade Day. It is from Noon to 6pm. Come and enjoy sharing your cards and the love of sports cards with those in the community around you. We also welcome those that do not have sports cards but other community based cards that they want to show off. Don't know how much your cards are worth and want to ensure you are getting a fair trade. We can help you out by looking up comps and explaining the differences. If you find a card, or have a card you'd like to get graded, We have that for you too!! We are currently taking submissions for PSA and HGA!
We are hosting a SUMMER CAMP for ages 7-11. Each day is $55 or the whole week is $250. It is the week of July 24th -28th!! Monday is Collectable Cards. Tuesday is Anime and Manga. Wednesday is Dungeons and Dragons. Thursday is Avengers. Friday is Pokemon. Space is LIMITED!! So please come in today and get your spots before they fill up!!
Be on the lookout for the next blog. Don't forget to come in if you have any questions about anything on the blog or if you just want to come by and say hello. Until next time!
SPORTS NEWS FOR JULY!
Don't forget that we have the FIFA Women's World Cup coming this summer!! Keep and eye out on updates and come check us out as we have the games playing and cards flowing! July 29th - August 20th.
Wimbledon is going strong with many Americans in it!! Be on the look out for those Ladies and Men's single players. They are giving those veteran players a run for their money! Wimbledon runs until the 16th of July. 
Until Next Time!
Visit our store HERE!
Our online store HERE!
Like us on FB HERE!
Like The Adventure Stadium on FB HERE!
The Adventure Begins | 525 Woodland Square Blvd. #130, Conroe, TX 77384 | 936-273-3223