Login
Log in if you have an account
Dont have an account? Register
Sports Cards and Stuff | January breaks are coming your way!
06 Jan 2021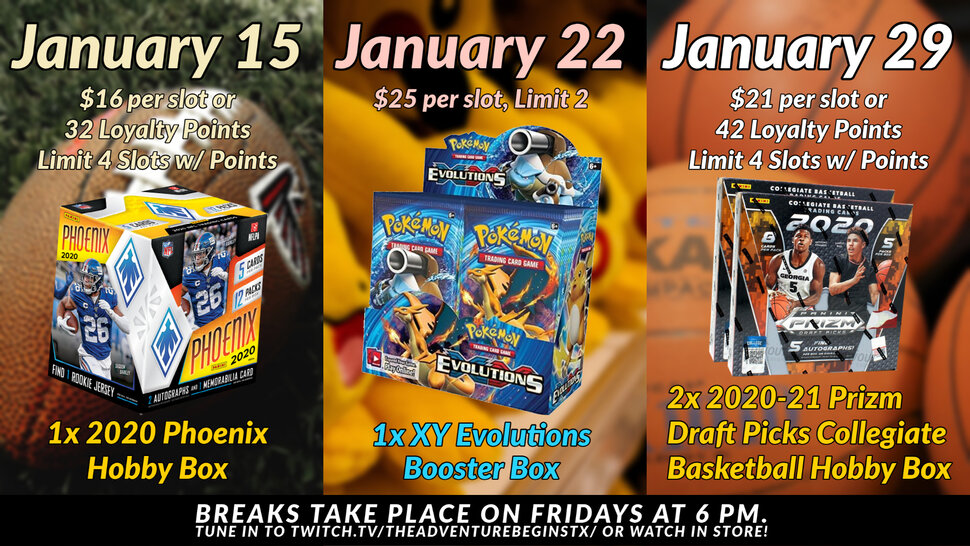 Let's BREAK!
A new year brings new breaks! Growing in popularity, breaks are a lot of fun and a great way to get your hands on a variety of cards to trade or add to your collection. But what's a break?  A box break is an event where a box or case of cards is divided up among collectors who purchase the right to receive certain cards as part of a random drawing.  Breaks can happen with collectible sports cards like Panini and Topps or can include other collectible cards like Pokemon and even Magic the Gathering. Any type of collectible card booster box or hobby box can be part of a break, although sports are seen a bit more often. 
In the month of January, we will be hosting 3 different breaks, so this is a good time to get involved or see what it is all about.  January 15th is our Phoenix Football Hobby Box break, January 22nd we will be hosting our first Pokemon XY Evolutions Booster box break, and January 29th we have a Prizm Draft Pick Collegiate Basketball Hobby Box.  Lots of variety and sure to please any card collector or beginners who desire to get really good cards!
Check out our breaks here:
Football: https://shop.theadventurebeginstx.com/football-break-2020-panini-phoenix-1-random-team-s.html
Basketball: https://shop.theadventurebeginstx.com/basketball-break-2020-21-prizm-draft-picks-collegi.html
*For information on our Pokemon Break, please call us or come in-store.  Slots can only be purchased in-store.
If you desire better cards, more autographs, a better collection, and the ability to collect without having to buy a full box of cards, then breaks could be your ticket!  Join in for some fun, it's sure to please!
Visit our store: https://theadventurebeginscomicsandgames.com/
Our online store: https://shop.theadventurebeginstx.com/
Like us on FB: https://www.facebook.com/theadventurebeginstx/
The Adventure Begins | 525 Woodland Square Blvd. #130, Conroe, TX 77384 | 936-273-3223