Login
Log in if you have an account
Dont have an account? Register
Sports Cards and Stuff | October Events and Updates
28 Sep 2022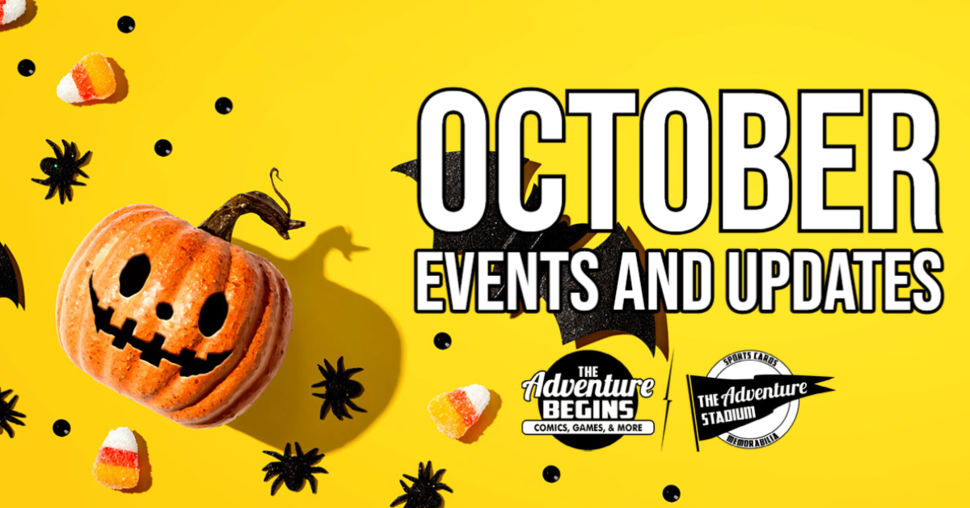 Welcome back, people! We're well into the swing of spooky season and autumn, although that doesn't mean much in Houston.
As I'm sure you're all aware, the FIFA World Cup is rapidly approaching; it's only 52 days away! Everyone at the shop is very excited, and we can't wait for it to start! What teams will y'all be cheering for? France, Germany, and Spain are popular teams in the Stadium.
Besides looking forward to the World Cup, we also have events to look forward to in October to tide us over. This Friday, Sept. 30, we have two events! One is sports focused, and the other is Star Wars. The sports event is the 2020 Topps Transcendent Captains Collection break on our Breaks page on Facebook. Lou is breaking the box at 5 PM, and at the time of writing this, there are a few spots left for y'all to grab.
The second event is at 6:00 PM on Sinvicta's Twitch. He'll be breaking a case of 2022 Topps Star Wars Chrome Beskar hobby boxes! Unfortunately, this break was sold out in less than a day, so there aren't any spots left, but you can tune it and watch the break even if you don't have a spot. These breaks are always a blast to watch and hang out in the chat!
On the third Sunday this month, we're hosting another Trade Day. It doesn't matter what you collect, when you started collecting, or anything else! Trade Days are for hanging out with the community, growing the hobby, and trading!
The final event happening in October is Panini NFL Player of the Day! The Panini POD promotion is always a lot of fun! It's 32 days long and you can win every day! How the event works is if you purchase a box of Panini NFL cards, whether that be a mega, hobby, retail, or even a hanger, you automatically hit twice! A hit is when you pull either the player of the day or a wild card player. When you hit, you get one or two Panini Silver packs and your name on a list that enters you in a drawing for more prizes each week. At the end of the 32 days, one grand prize store winner gets more prizes and a 25% off shopping spree in The Adventure Stadium!
The Adventure Scholars Program is up and running! Bring in your most recent report card to earn store credit that you can put towards purchases. There are a couple of rules, you have to have a parent or guardian with you, a copy of your most recent report card, and if you're under the age of 13, then you have the store credit put onto your parent's account.
That's all for this month's blog! Be sure to follow us on all our socials to stay up to date on all the happenings!
Visit our store: https://shop.theadventurebeginstx.com/
Like us on FB: https://www.facebook.com/theadventurebeginstx/
Like The Adventure Stadium on FB: https://www.facebook.com/theadventurestadiumtx
The Adventure Begins | 525 Woodland Square Blvd. #130, Conroe, TX 77384 | 936-273-3223
The Adventure Begins | 525 Woodland Square Blvd. #130, Conroe, TX 77384 | 936-273-3230