Login
Log in if you have an account
Dont have an account? Register
Sports Cards and Stuff | The Adventure Begins Expands- The Atmosphere of Baseball
23 Sep 2021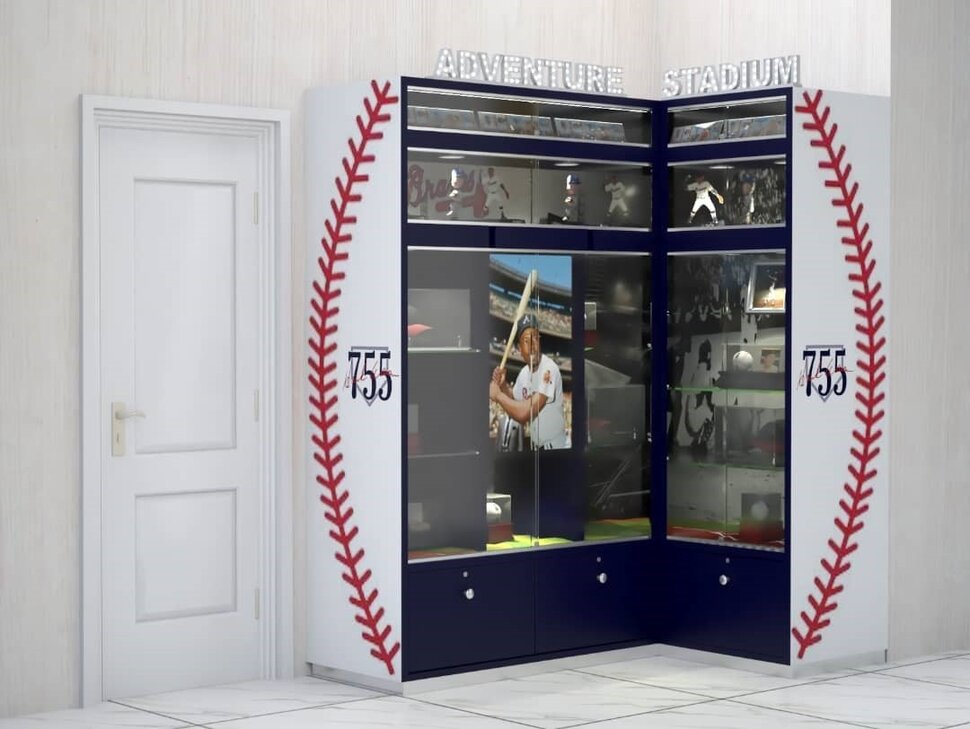 "I want visitors… to almost feel the excitement, the atmosphere of being at a baseball game."-- Jamar Simien
Bill Sheely and Jamar Simien met at Anime Matsuri 2018. At the time, both business owners were trying to get their respective brands off the ground. But, for Simien, co-owner and founder of Contour Functional Art, this meeting was going to full circle in a very personal way.
Sheely was the second client Contour Functional Art worked with, and now, almost three years later, they are working together again on a case that brings together many elements for both Sheely and Simien. The original pieces are still present today in The Adventure Begins. Visitors can see the beautiful works of functional art near the front of the shop holding statuettes from various anime, movies, and comics.
Simien spent ten years of his life devoted to teaching art in the Houston public school system. As a child, Simien honed his artistic abilities by sketching players' portraits from sports cards. After years of teaching and giving back to his community, he decided to take the risk and open his own company. Simien's motto is, "What is life without a challenge?"
The current project that Simien is designing for Sheely will be featured in the new expansion and daughter company, The Adventure Stadium, which is slated to open near the end of October. The Adventure Stadium will be a sports cards and memorabilia shop focusing on giving guests a premiere experience with excellently curated products. In addition, the new space will provide guests with access to resources, such as a quality streaming room that will be available for reservations for guests of both stores to stream pack and box breaks, games, host podcasts, and much more.
Critical elements of both Sheely and Simien's careers are passion and narrative. It is essential to Simien that a narrative is present to display the passion in the most recent project. The narrative of this project for The Adventure Stadium, "For this project with Bill, it was really important for us to focus on telling his story, instead of our story," Simien said.
The custom-designed display case will feature a television, an oil painting textured background of Hank Aaron, and stadium lights. One goal of the piece is to make guests feel like they are in a stadium about to see a game. The design of the piece contains meaningful elements for both the client and the artist. Sheely's love for legendary Hank Aaron is shown through a large image of the player hitting his 1974 legendary home run that broke Babe Ruth's record. Hank Aaron will be depicted in the project in an oil paint texture, which calls back to Simien's history.
Simien is excited to see the balance and part of his story coming full circle with this project when the project is complete. As for the rest of the TAB and TAS family, they are excited to see how this piece will bring together the past, present, and future.
**Check out our sports card selection online HERE and more in-store!!
Visit our store: https://theadventurebeginscomicsandgames.com/
Our online store: https://shop.theadventurebeginstx.com/
Like us on FB: https://www.facebook.com/theadventurebeginstx/
The Adventure Begins | 525 Woodland Square Blvd. #130, Conroe, TX 77384 | 936-273-3223
Tags: cards, comics, sports, games, store, more, adventure, begins